Bone-in turkey breast is delicious and simple to enjoy all year round. Here's an amazing Turkey Breast Brine recipe and how to roast it in the oven.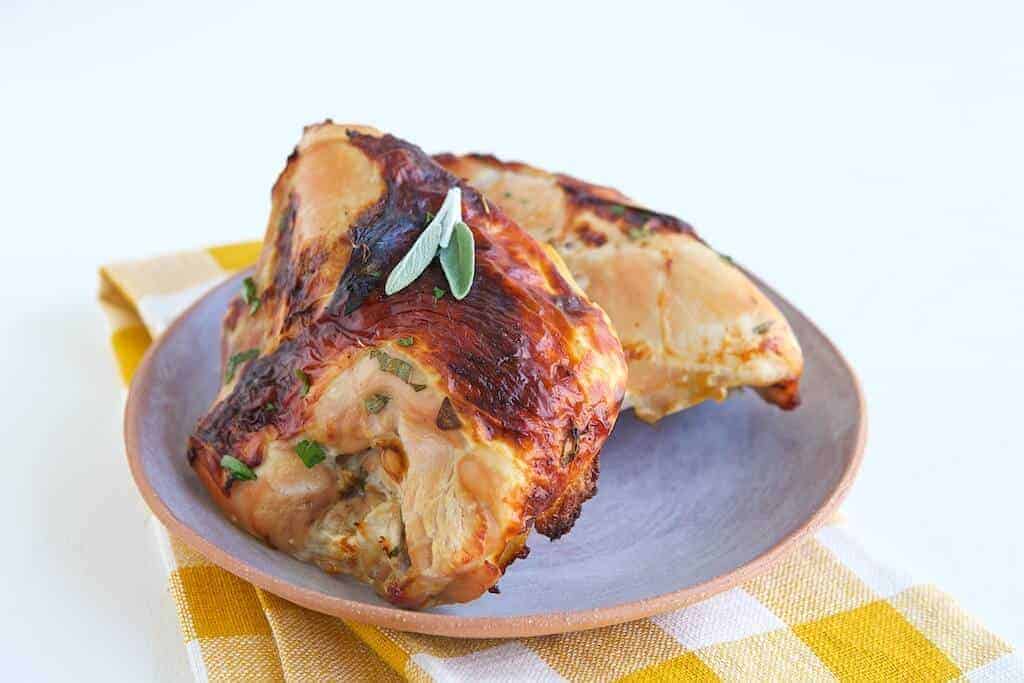 Two summers ago I discovered the magic of brining turkey breasts and grilling them. Why is it magic? Because I really love bone-in turkey and wanted to enjoy it more than just on Thanksgiving and I figured out how to enjoy it grilled. My Grilled Turkey Breast recipe has since become one of my top recipes on Make Healthy Easy. I make it multiple times a year because it's just so good.
The secret sauce in the Grilled Turkey Breast recipe is the brine. I discovered how you can fully cook bone-in turkey without drying it out. It's all in the brine baby! (Insert Dick Vitale voice)
If you've never brined meat before, don't sweat it. It's really easy. Here's a video to help you out:
As I prepare for the holidays, I wanted to see if that brine worked just as good on oven roasted turkey. I tweaked it a bit to include holiday herbs in the brine and put it to the test.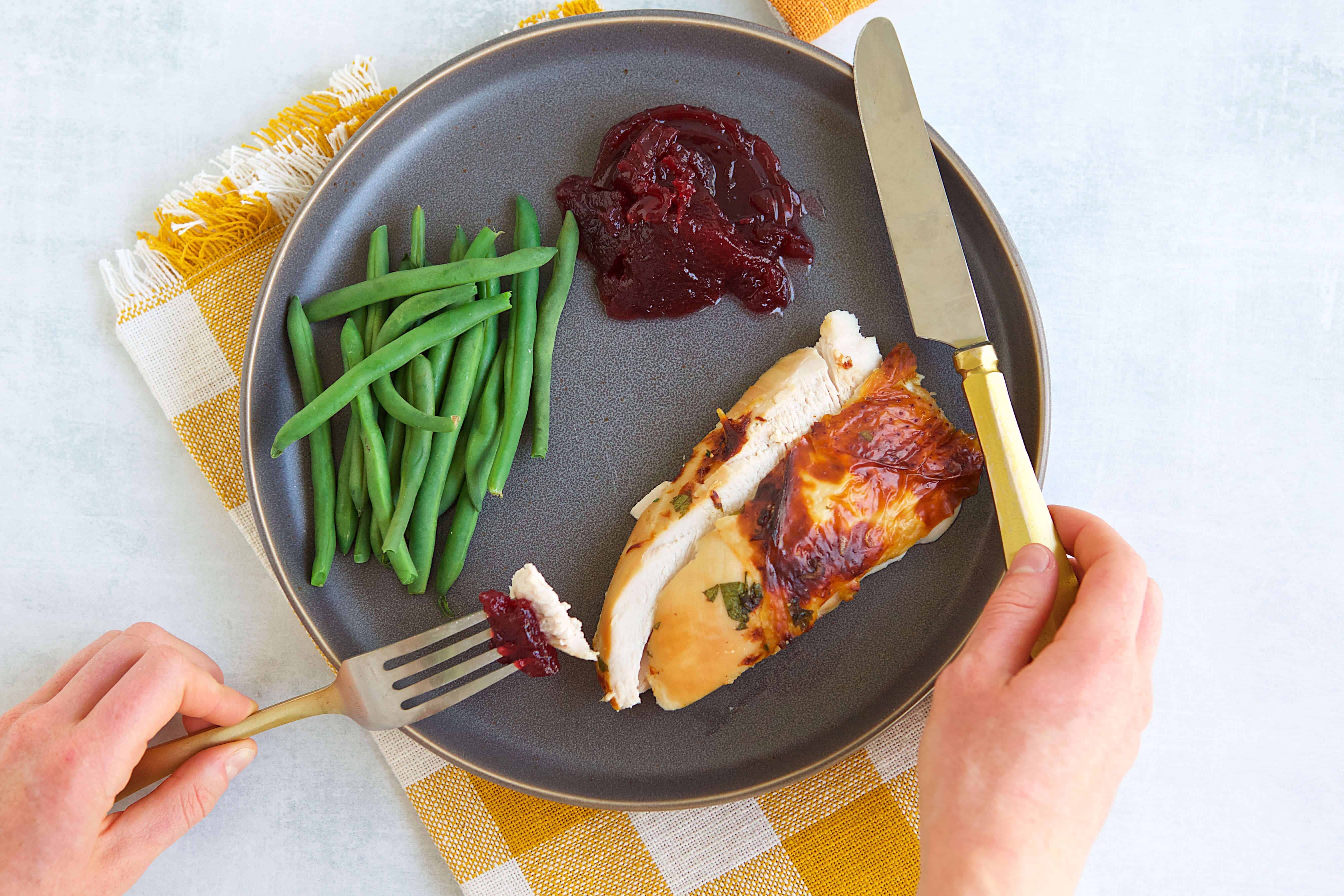 Friends, this Turkey Breast Brine is now officially "tried and true" in the Make Healthy Easy kitchen. It works every time.
So whether you want to save oven time for the holidays by just roasting turkey breast or you want to enjoy roasted turkey breast all year round, THIS is the Turkey Breast Brine recipe you need and this is how to roast it. Look no further. Seriously.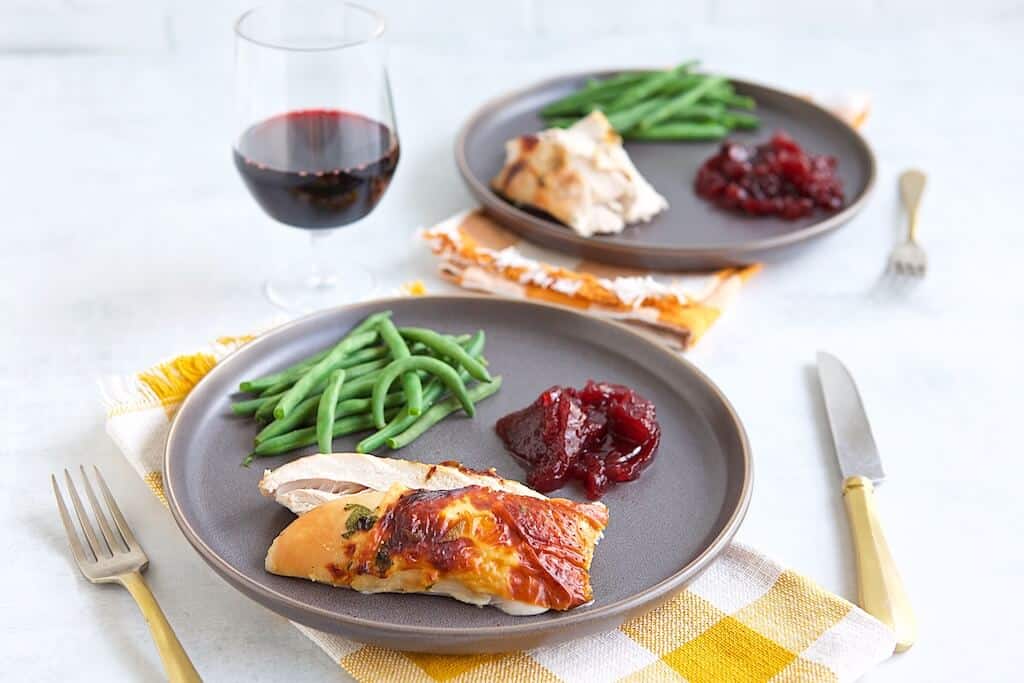 One element that will ensure success on this recipe is to use a leave-in, high temperature thermometer. I have tried quite a few through the years and landed on this model on Amazon that I absolutely love. It has been on high temp and low temp, on the grill and in the oven. It hasn't broken and continues to perform years after I bought it. I cannot urge you enough to go ahead and buy this for you to cook with over the holidays, as a gift for the cook or grill master in your life and to ensure this Turkey Breast Brine recipe is a home run.


Without further ado, here's how you make it: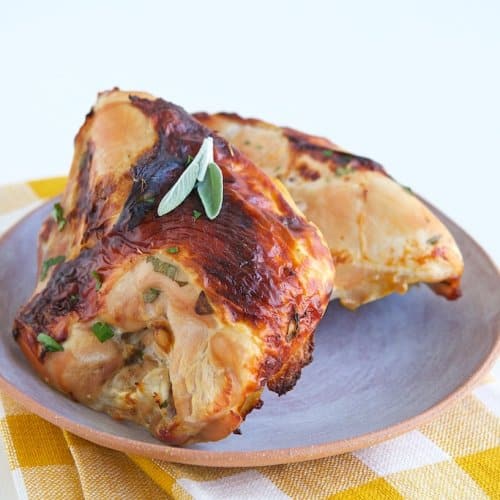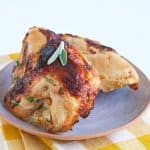 Print Recipe
Turkey Breast Brine and How to Roast It
Equipment
High heat, leave-in meat thermometer
Ingredients
2

Bone-in turkey breasts

(Each is half of a whole bird)

2

cups

Buttermilk

1

bottle

Your favorite beer

(Flavored is OK)

¼

cup

Chopped, fresh sage

(Can substitute other favorite fresh herb)

½

cup

Chopped, fresh parsley

5

cloves

Minced garlic

⅓

cup

Kosher salt
Instructions
In a large bowl, whisk together buttermilk, beer, sage, parsley, garlic and salt. 

Place turkey breasts in a large, deep dish that can be covered. Pour the brine over the turkey. Cover and refrigerate for at least 4 hours and up to 12 hours. Halfway through brining, flip the turkey breasts over. 

Remove from brine, pat dry with paper towels, and discard excess brine.

Preheat oven to 375 degrees.  Let turkey breasts sit at room temperature for about 30 minutes.

Place turkey breast on a rimmed baking sheet covered in aluminum foil. Insert oven safe thermometer into thickest part of the turkey breast being sure to not touch the probe to any bones. Roast for about 60-75 minutes, or until internal temperature reaches 155-160 degrees F.

Remove from oven and cover loosely with aluminum foil. Let sit for 15 minutes and leave in thermometer to ensure turkey temperature reaches 165 degrees F.

Slice off the bone and serve immediately. 
Notes
This thermometer is highly recommended for this recipe and many others. 
1 turkey breast serves about 2 adults or 3 children. 
Nutrition
I sincerely hope you try this Turkey Breast Brine recipe out and quite honestly, I hope it happens outside of just the holiday season.
Enjoy!
Jenna