This quick and easy vegetarian burger is made from pantry staples. While it is simple to prepare, it tastes restaurant quality.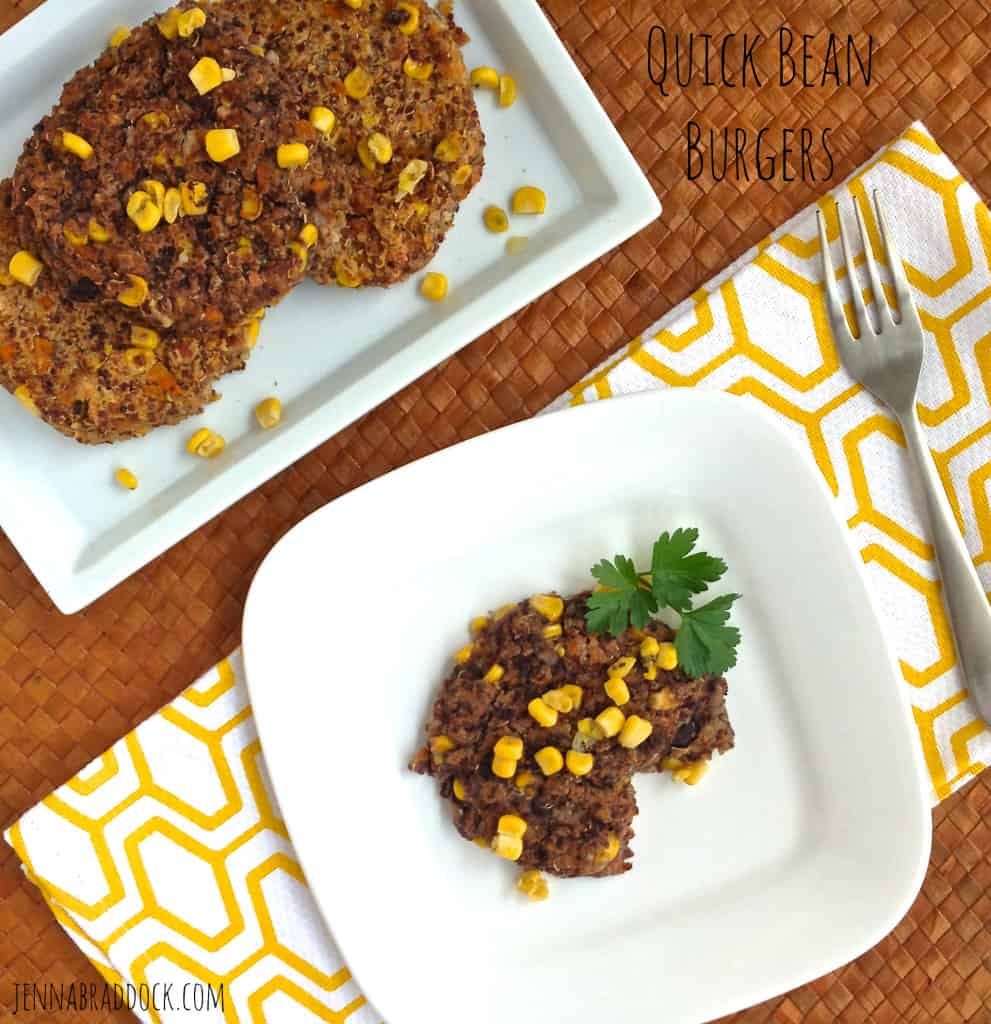 Special thanks to the Canned Food Alliance for sponsoring this post and compensating my time and ingredients for the recipe below.
Hi everyone! It's been a wonderful holiday for Team Braddock. Since Brian and I are both off work, we have enjoyed a lot of family time and I've barely looked at my computer. It's been a really nice break and I've purposely tried to give my family my full attention. Plus, I've been on TV a couple of times, which means I was cooking A LOT.
So with the holiday season almost behind us, it's time to move our attention to 2015. Perhaps you've begun to think about your goals for the new year, and hopefully your health. While I'm not a big believer in "New Year Resolutions", I am a fan of goals and purposeful intentions.
The New Year is a great time to think about what you want to get out of the next 365 days. Instead of making very lofty, mega-goals, I like to think about what small decisions in my daily life do I want to make differently this year. A series of small decisions over time can lead to big changes! So let me ask you, what's a different small decision you'd like to make this year? Leave me a comment and let me know.
I'll tell you one of my new decisions for 2015 - I'm going to write down my weekly goals. What I mean is, I have so much swirling around in my head on what I want/need to accomplish on a daily basis. Rarely do those things make it out of my head in an orderly fashion which means rarely do they get done in a timely fashion. So I am going to make the decision to write down my goals for the week, probably just 2-3. Does anyone else do this? Is it helping them?
If nothing else, I hope you make a goal to treat your body well and improve your health this year. This happens by making small decisions in the minutia of your daily grind to eat well and move your body.
Even with the best of intentions, life can get really busy. Eating healthy can be a challenge on long days of work or parenting. Trust me — I KNOW!! I'm here to help today with an EASY, QUICK, TASTY, and HEALTHY recipe.
Canned foods make it so easy to whip up a quick, healthy meal especially for produce that is out of season, time consuming to prepare, or just plain expensive. And if you think canned food is less nutritious, think again. Research has shown that some canned products, like pumpkin and tomatoes, have excellent nutrient preservation.
High amounts of sodium can be a concern with canned goods but it's easy to find low or no sodium added options now. And, by simply draining and rinsing canned veggies, you reduce the sodium content by 41%.
These are the canned items that I typically ALWAYS have in my pantry: beans (all types), boxed tomato products (all types), whole kernel corn, roasted bell peppers, and olives. I've recently added some of the new pouches of vegetables, like carrots, to my pantry too, just in case I feel the need to add some to a recipe.
Today I'm sharing with you a recipe for veggie burgers that is perfect for these kind of day — The I'm so tired from this day but I really want to eat healthy but it must be fast kind of day. I created this recipe to be filling, full of protein, and able to be frozen for a quick meal later. The secret weapon for this recipe is some of my favorite canned foods, many of which can be interchanged with whatever options you may have in your pantry.
I've made this recipe with both black and pinto beans, but any bean that is mash-able will work. You can also substitute almost any canned veggie for the corn or carrots, as long as you chop them up if they are larger in size.
The only item that requires some true cooking is the quinoa. I consider this an easy grain though because it only takes 15 minutes to cook. I will make a big batch ahead of time and freeze 1 cup portions to pull out for a recipe like this. Or, I'll make it in the morning while I am getting ready and pull it out for dinner that night. It's just so easy. You could also substitute some types of rice for the quinoa if needed.
There are so many ways you can enjoy this burger that I doubt it will get old. Eat it with or without a bun, add cheese, top with avocado or tomato, dip in catchup, or tuck in a pita like falafel. So put this veggie burger on your meal plan for this week and make a double batch to freeze for later. On those crazy days that are coming quick, you will be so happy you did.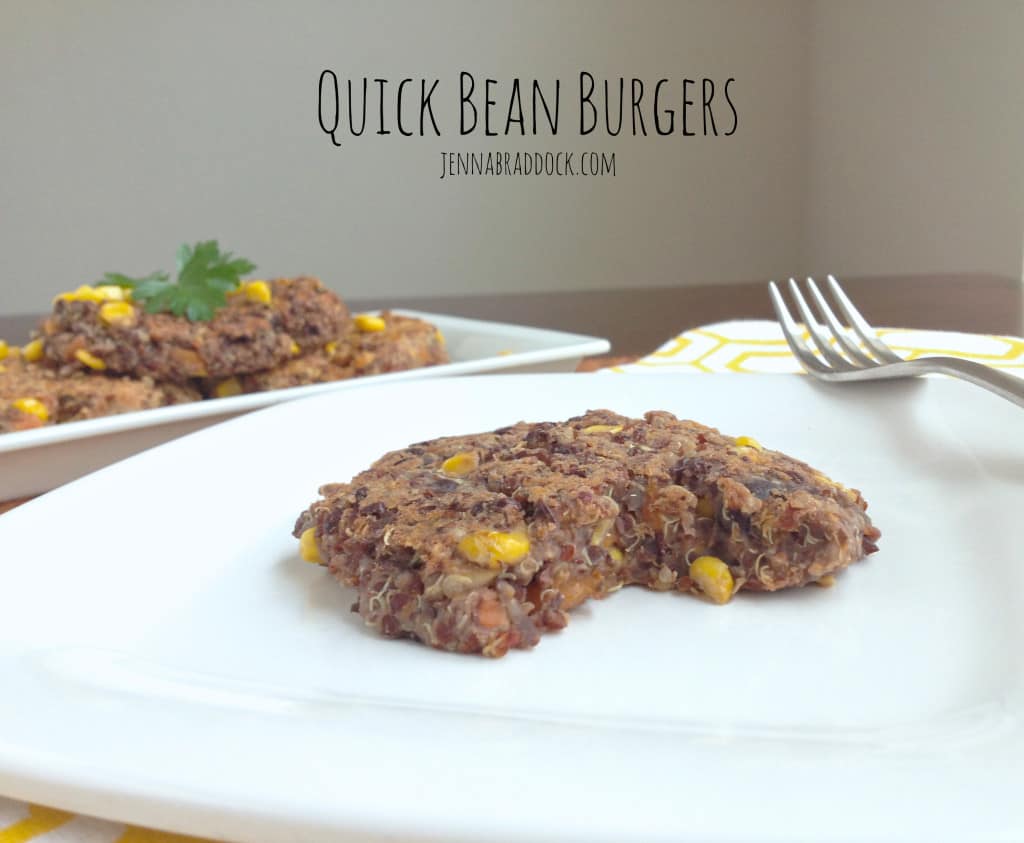 Print
Recipe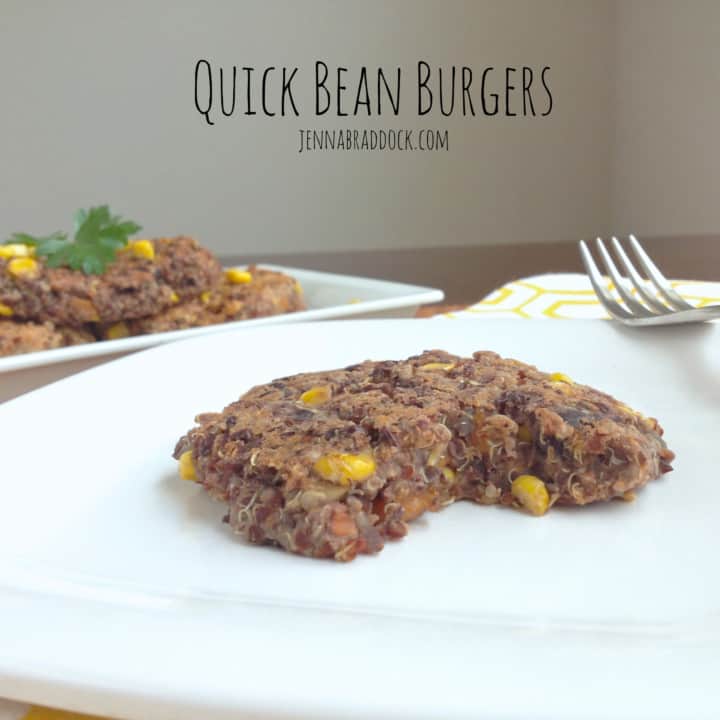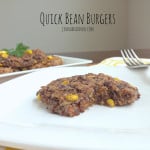 Quick Bean Burger
---
Author:

Total Time:

18 minutes

Yield:

4

-6

1

x
Description
This quick and easy vegan burger is made from pantry staples. While it is simple to prepare, it tastes restaurant quality.
---
1

can reduced sodium black or pinto beans (drained and rinsed)

1

cup

cooked quinoa

½

cup

whole kernel fire roasted corn (drained (do not rinse)

½

cup

finely chopped, sliced carrots (from can or pouch; drain before chopping)

1 teaspoon

garlic powder

¼ teaspoon

fresh, ground pepper

1 teaspoon

cumin

½ teaspoon

dried basil

1 teaspoon

red wine vinegar
Cooking spray
---
Instructions
Heat a large, non stick skillet over medium heat.
Dump beans in to a large mixing bowl. Using a potato masher, roughly mash up beans.
Add the rest of the ingredients to the mixing bowl and stir to combine well. (I found using my hands to mix together was very effective.)
Spray skillet with cooking spray. Using either a ⅓ or ½ measuring cup, loosely scoop out bean mixture and form into a patty. Place patty on skillet and gently flatten further with back of a spatula. Cook for 4 minutes, then flip and cook for 4 more minutes, spraying skillet with cooking spray in between if needed. Finish with all the bean mixture. Serve immediately or let cool completely for freezing (see notes).
Notes
Makes 4-5 large patties with ½ measuring cup.
Makes 5-6 medium patties with ⅓ measuring cup.
After patties have cooled, wrap individually in stretch wrap and store in freezer. Allow to defrost slightly then reheat in microwave, toaster oven, or skillet.
Prep Time:

10 minutes

Cook Time:

8 minutes

Category:

Entree

Cuisine:

Vegetarian
Keywords: vegan burger, vegetarian burger