There are a lot of options in the lemon bar recipe world, but I will argue that this is the only one you will ever need or want. I have had people ask for this recipe almost 10 years after eating them; they were that memorable.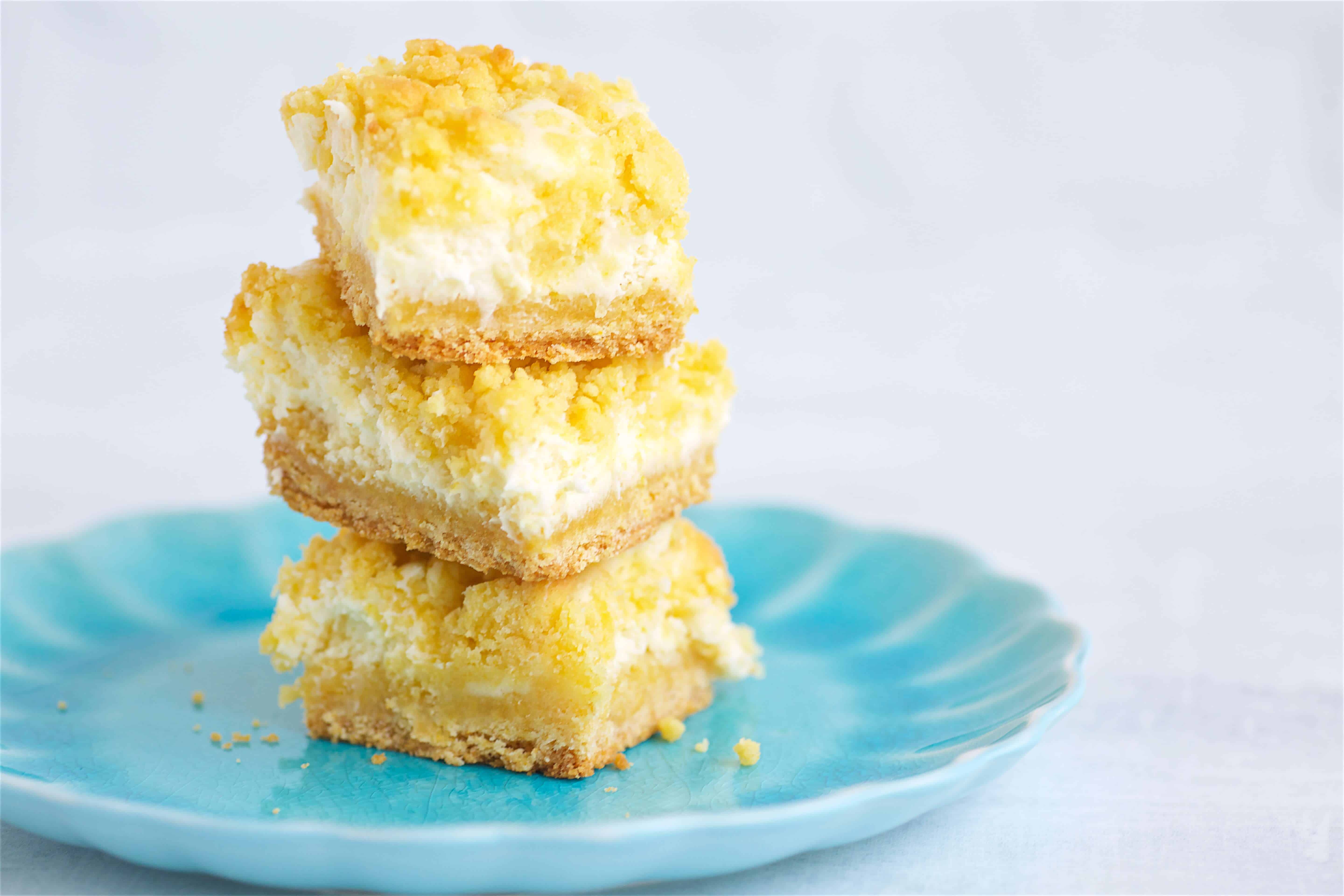 Back in the day (way back there), I played high school volleyball. One of my favorite parts of playing team sports was pre-game dinners. I just loved being with my teammates, preparing for a big game, and knowing everyone was going to be fueled well. Seriously, as a captain of my team I took comfort in knowing everyone had eaten. Little did I know this would turn into my career. =)
During these team dinners, one of the moms, Mrs. Bishop, would bring these incredible lemon bars. I'd never had anything like them. They weren't the weird jelly kind of lemon bar; I got nothing for those. These were more on the side of cheesecake and I am always on board for that.
When I went away to college, through one way or another, my mom started bringing these lemon bars up when she visited. Oh man, a hug from my mama and a lemon bar did my soul a lotta good, especially as a freshman. They also helped my popularity among friends. That never hurts.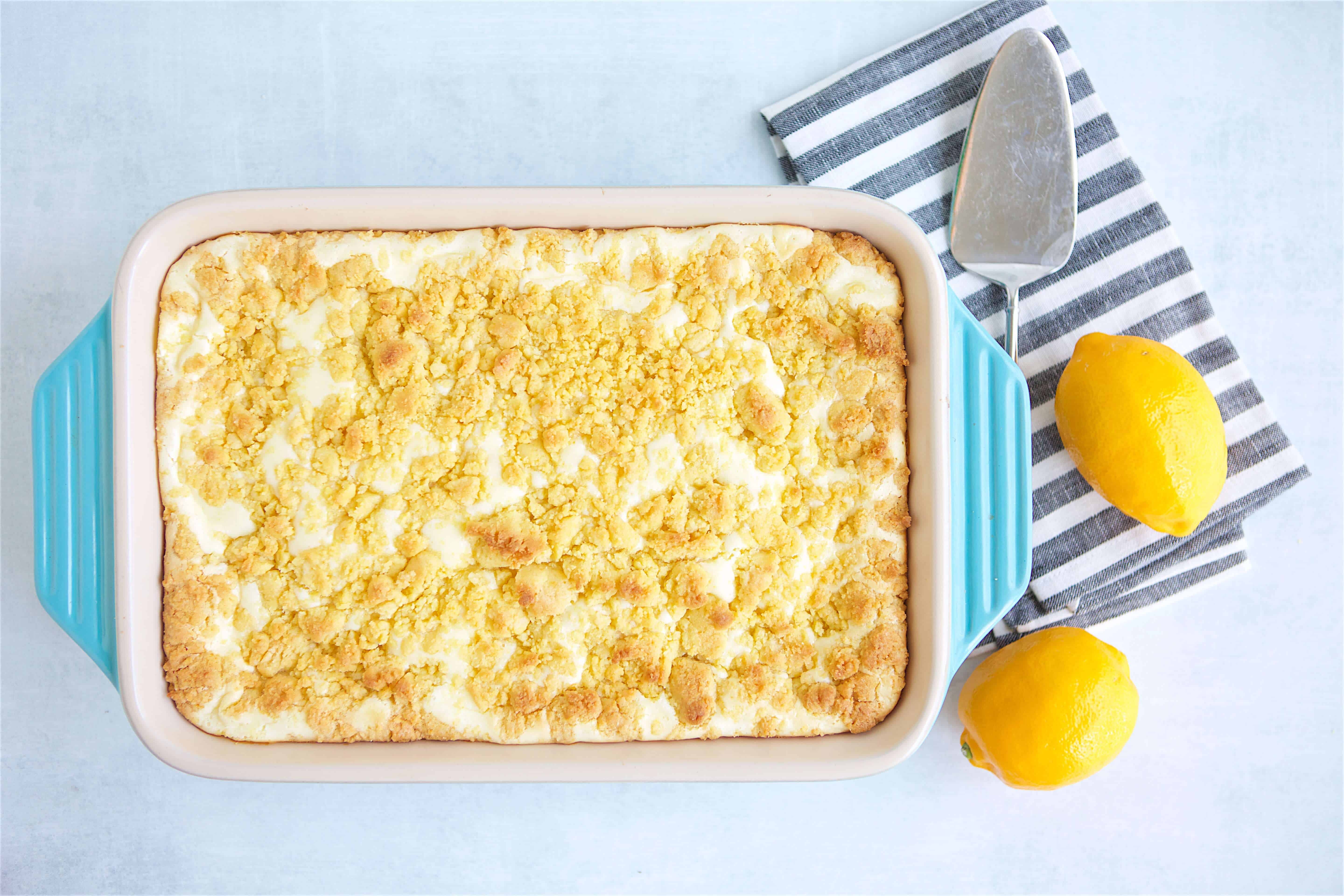 Fast forward several more years, I became a volleyball coach myself and well, needed something to encourage my girls from time to time. I got the recipe from my mom (who got it from Mrs. Bishop) and they worked! In fact, they became sort of famous. The girls would barter with me for them -- if we win against (really hard opponent), will you make us lemon bars? Of course I did. Then, I made them for one of Coach's classes of students and they also were highly motivated by these lemon bars.
Over the years I have made some improvements to the original recipe that I think take them over the top. For no reason in particular, I've never posted the recipe on Make Healthy Easy. In the past month though, I've had 2 unrelated people asked me for my recipe, neither of which had tasted my lemon bar recipe for over 5 years. I took this as a sign that this lemon bar recipe needed to make it on MHE so that many more could be blessed by this epic dessert.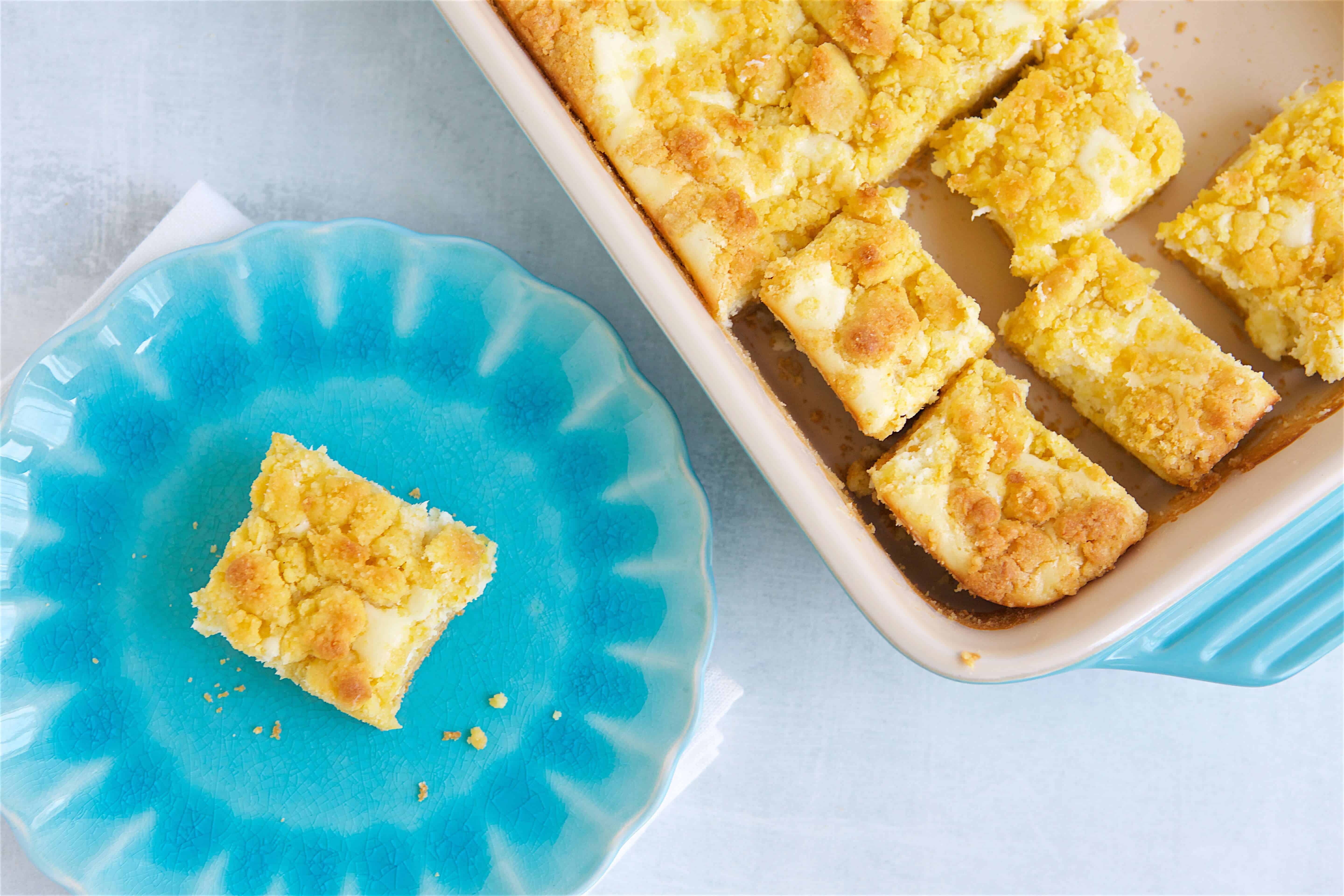 So here you go world! I may never be remembered for my vegetable dishes, but I will forever be known for this Lemon Bar Recipe and The BEST Chewy Chocolate Chip Cookie Recipe. It's not a terrible thing to be known for so I will go with it.
Let me warn you, these are addictively delicious. Make them for a crowd and never be left alone with a whole pan. Things could get hairy. I speak from experience.
Now, let me tell you how to make them with a few visuals for help.
First of all, use a lot of lemon zest in the crust. The more the better! Don't be shy.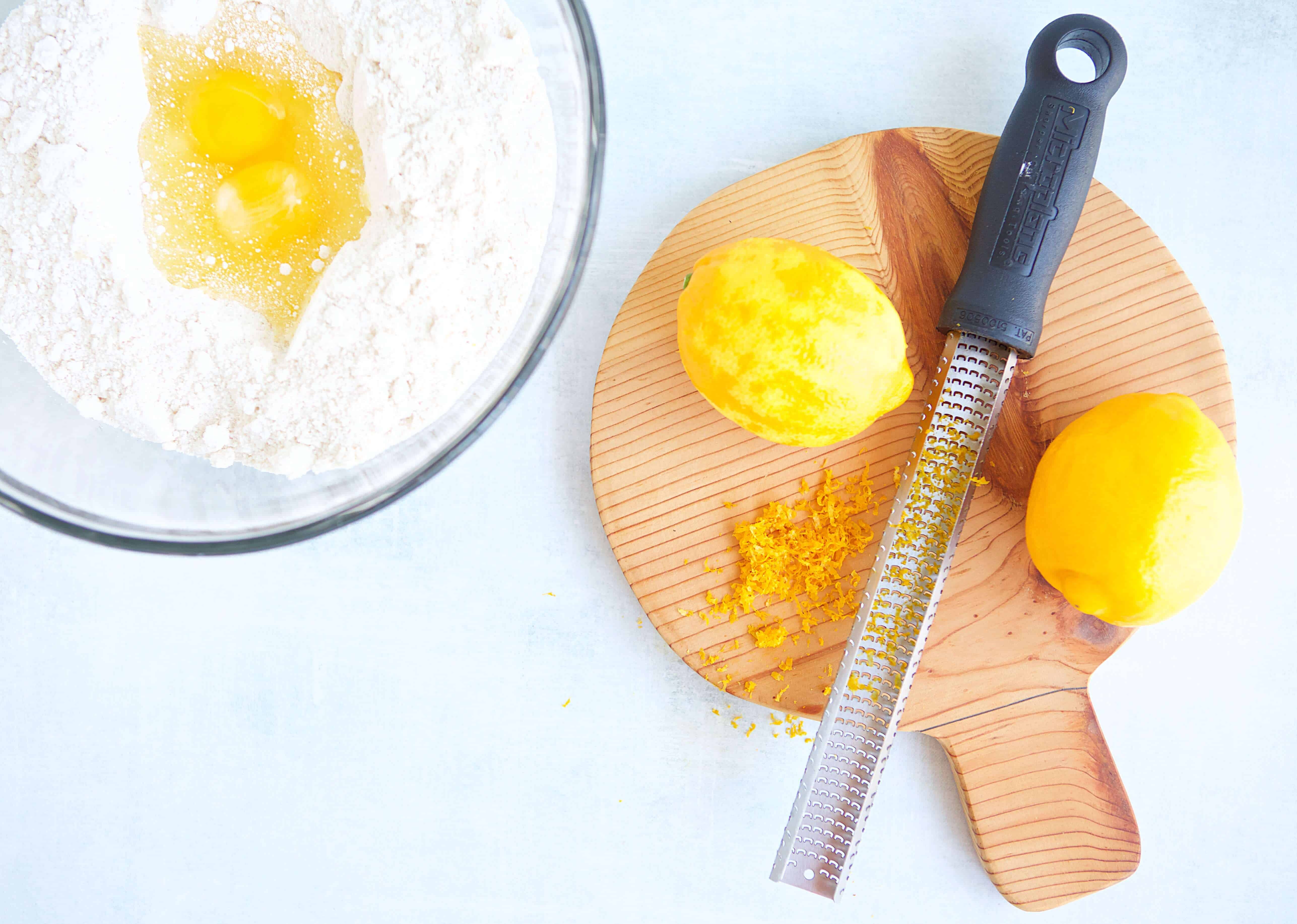 This is what the crust dough looks like when it's all mixed. It's like playdough consistency. I like a nice thick crust, so don't make it too thin when you press it in. Just make sure you have about a cup and half minimum leftover to use for the crumb topping.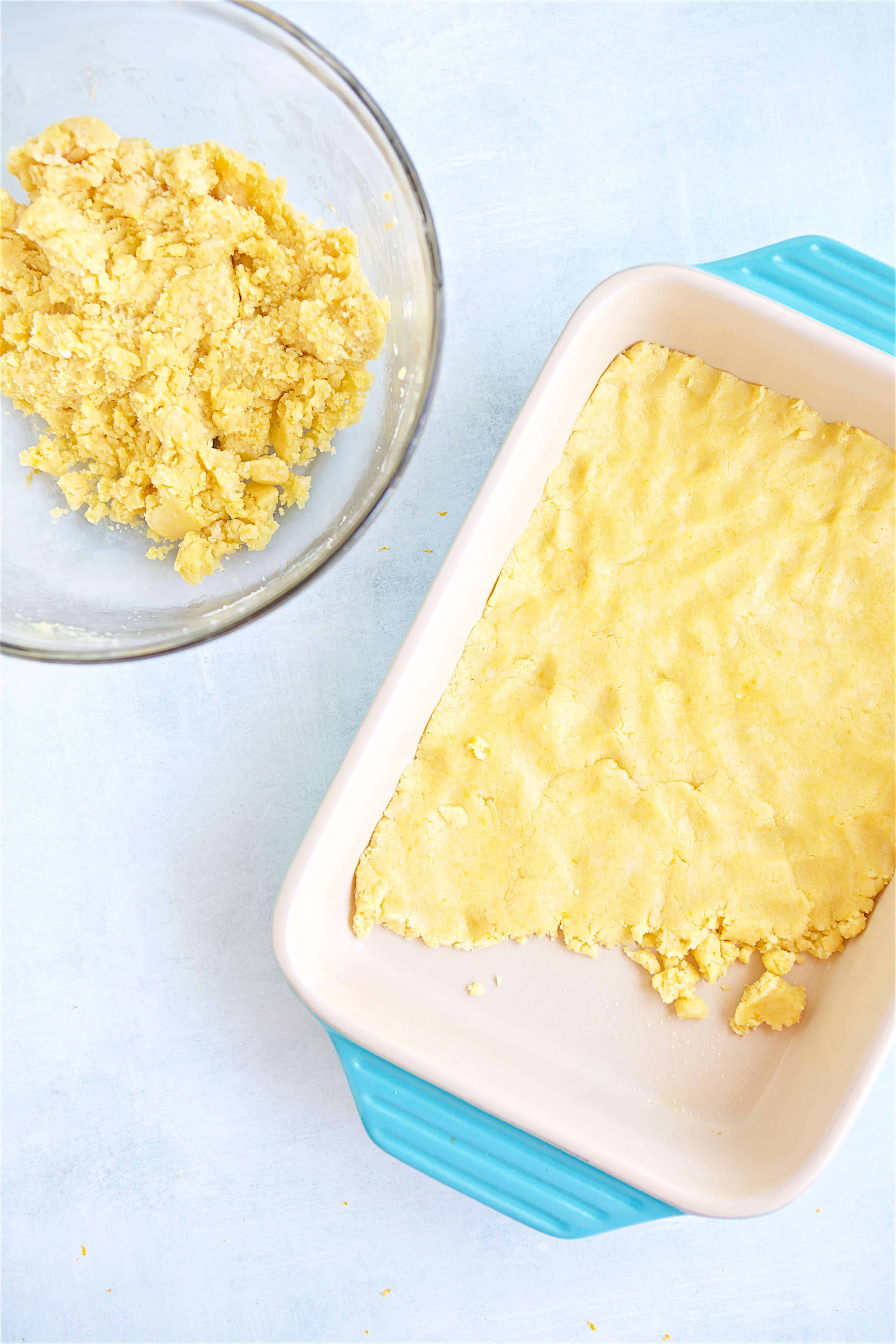 When you beat the cream cheese filling, whip it good! I use the whisk attachment and let it go for 5+ minutes. It's still running, but I think it helps get it a little fluffy. Also, taste as you go on the lemon juice. I use the juice of 2 lemons, but if you want more zing, go for it!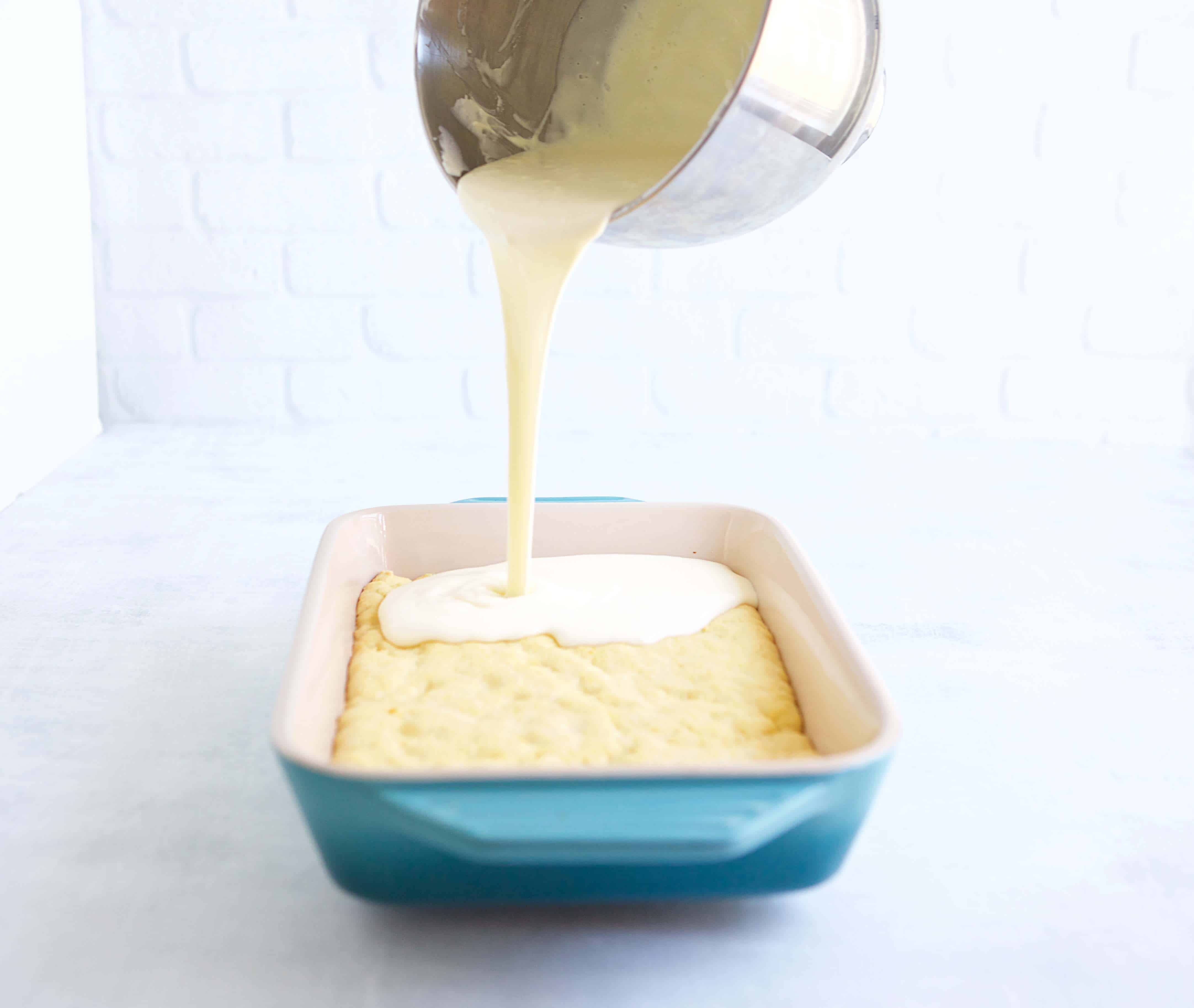 Lastly, I like to almost entirely cover the filling with crumb topping. No one has ever complained, ever, about too much crumb topping on anything. So again, make sure you have enough crust left to cover the filling. Since you use 2 boxes of cake mix though, you don't have to worry about not having enough.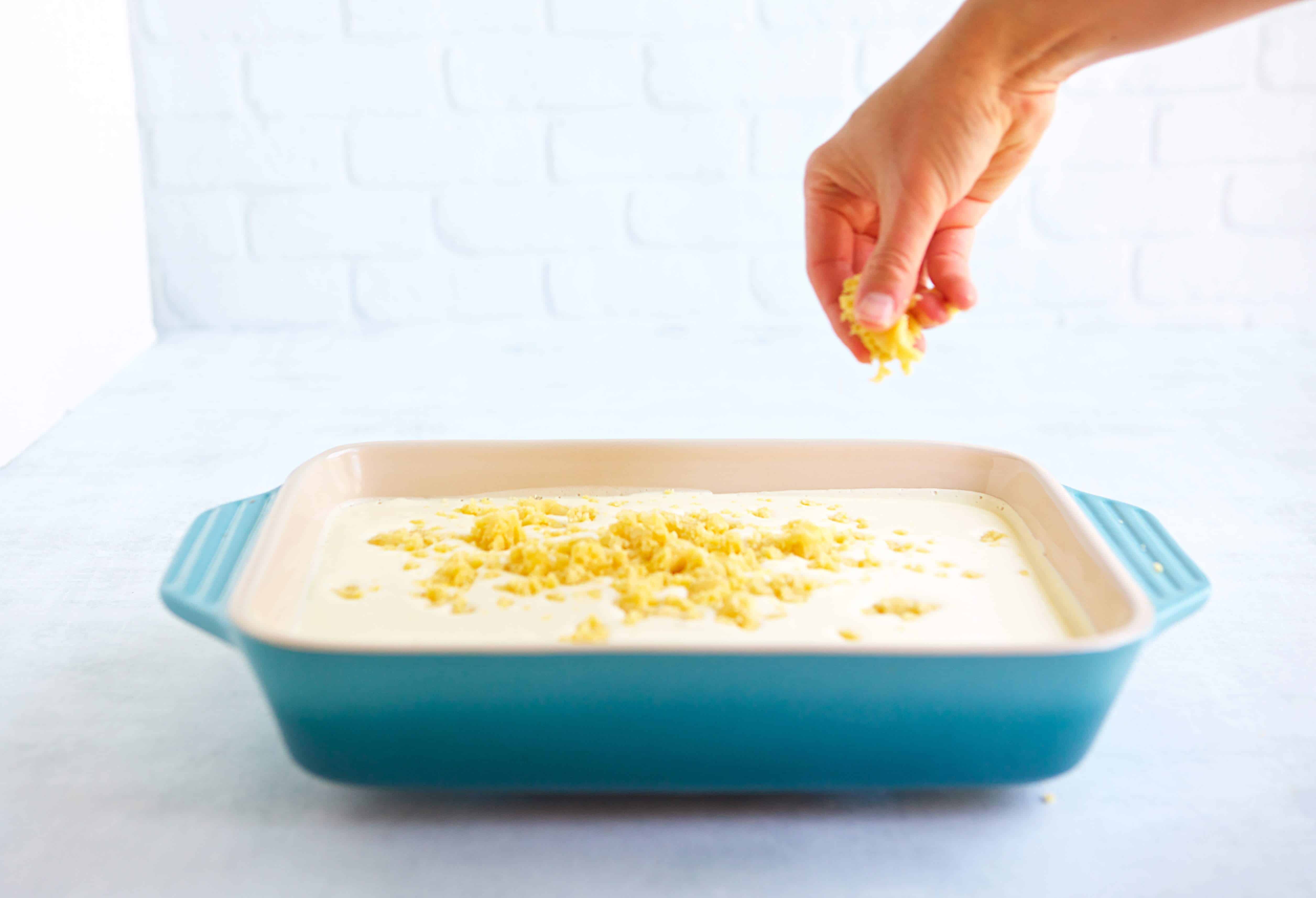 That's all the secret tips for success! Here's the official recipe.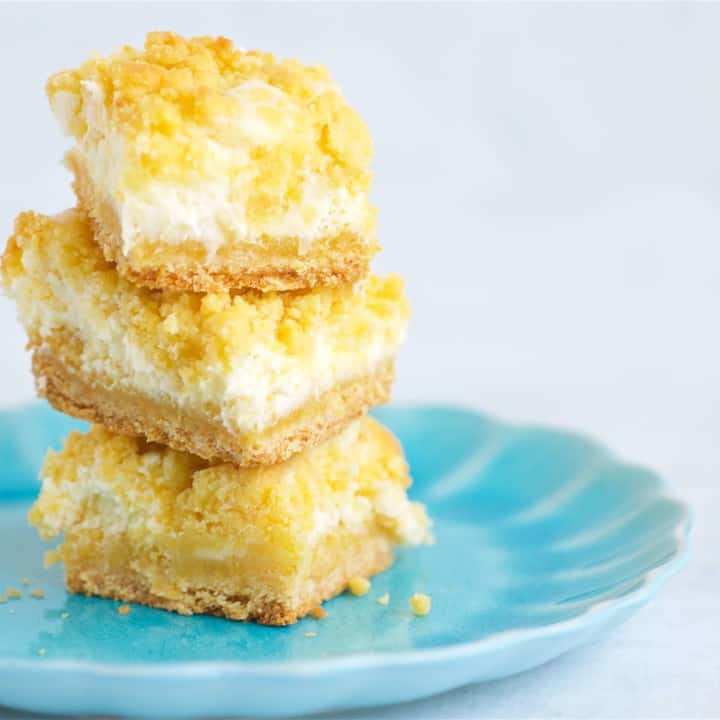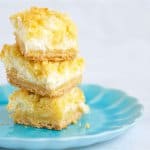 Print Recipe
The only Lemon Bar Recipe you'll ever need or want
There are a lot of options in the lemon bar recipe world, but I will argue that this is the only one you will ever need or want.
Ingredients
CRUST/TOPPING

2

boxes of yellow cake mix*

2

eggs

beaten

⅔

cup

vegetable oil

Zest from 2 lemons

FILLING

2, 8

oz

packages cream cheese

softened to room temperature

⅔

cup

sugar

2

eggs

Juice from 2 fresh lemons
Instructions
Preheat oven to 350 degrees.

Spray a 9x13 baking dish.

In a large mixing bowl, combine both boxes of cake mix, 2 eggs, oil and zest. Stir to combine and then use your hands to finish mixing completely.

Using your fingers, press about ⅔ of the crust mixture into the bottom of the pan creating a flat bottom of dough. Crust should be about ½" in thickness. Bake for 15 minutes.

Meanwhile, beat the cream cheese and sugar together with an electric mixer and whisk attachment until combined. Add 2 eggs and lemon juice. Beat for about 5 minutes. Taste as needed to determine if you want to add more lemon juice.

When crust is done baking, remove from oven. Pour filling on top of the crust (it's ok for crust to be hot), covering the crust completely.

Crumble the remaining ⅓ of the raw crust dough on top of the filing to cover as much as possible.

Bake for 25-30 more minutes, until center of the bars is set and doesn't jiggle, and crumb topping is golden brown. Remove from oven and let cool completely.

Once cool to the touch, refrigerate for at least 3-4 hours.

Cut into bars and serve as cold if possible.
Notes
* Use yellow cake mix and try to find one with pudding in the mix. Any yellow cake mix will work as I've tried this all kinds of brands.
You can cut the bars as big or small as you like.
There you have it folks. Prepare to have your lemon bar life changed forever.
You're welcome,