Do you want to put on an incredible Easter morning brunch but don't want to be stuck in the kitchen cooking? You've come to the right place! These delectable make-ahead Easter brunch recipes will allow you to actually enjoy your morning.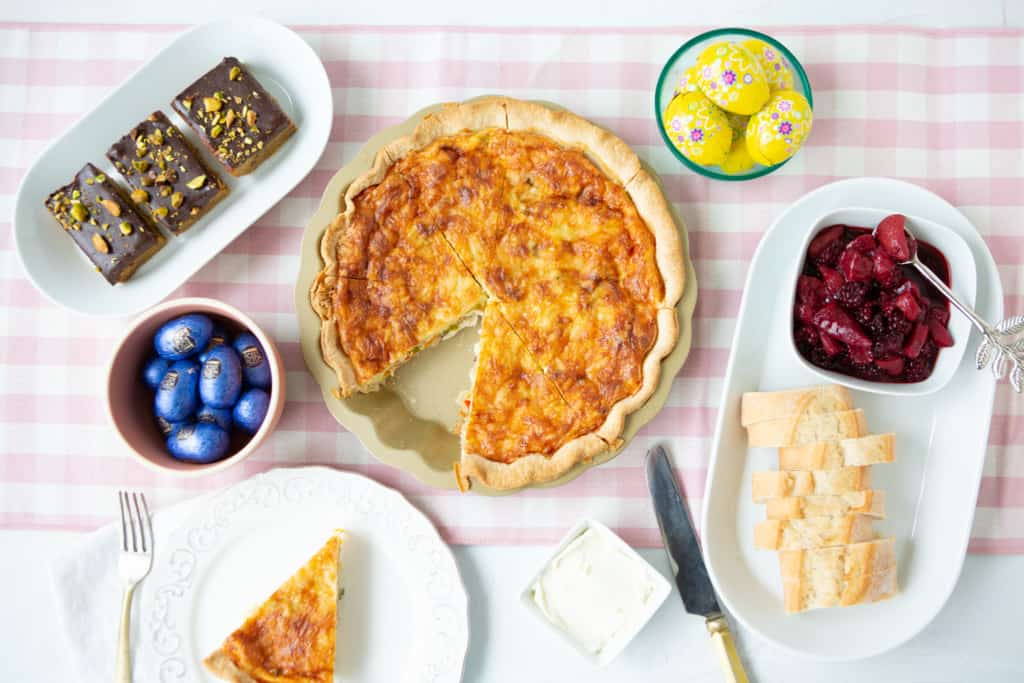 This post is sponsored by ALDI.
Jump to:
Sunday Brunch Menu
Here are 3 easy, delicious make-ahead recipes for your Easter celebration. Visit the links below to access the printable recipes:
Appetizer
Crostini is an easy appetizer and always a crowd pleaser on any holiday menu. You start with a sliced and toasted French baguette then top it with something delicious using fresh fruit.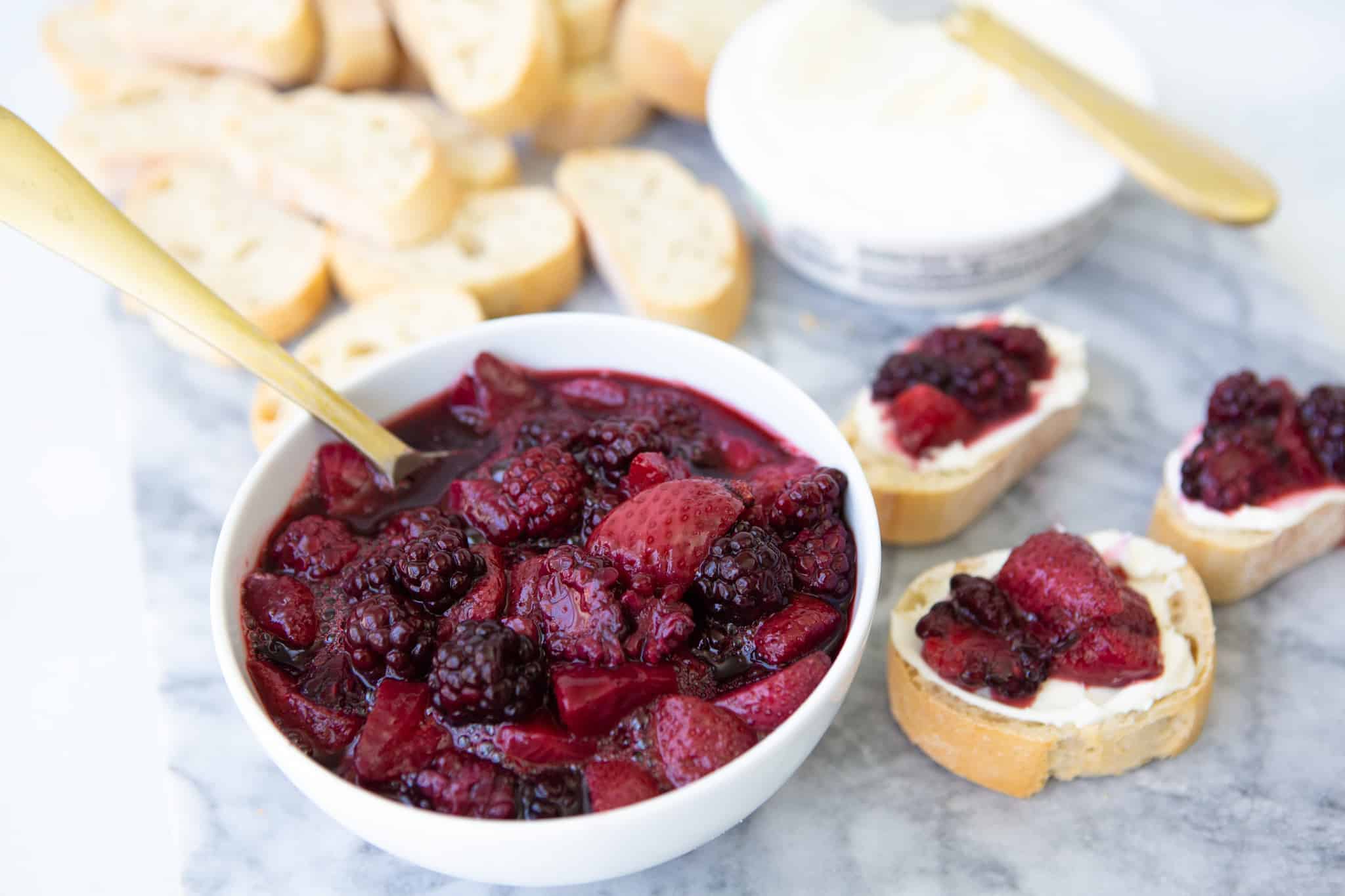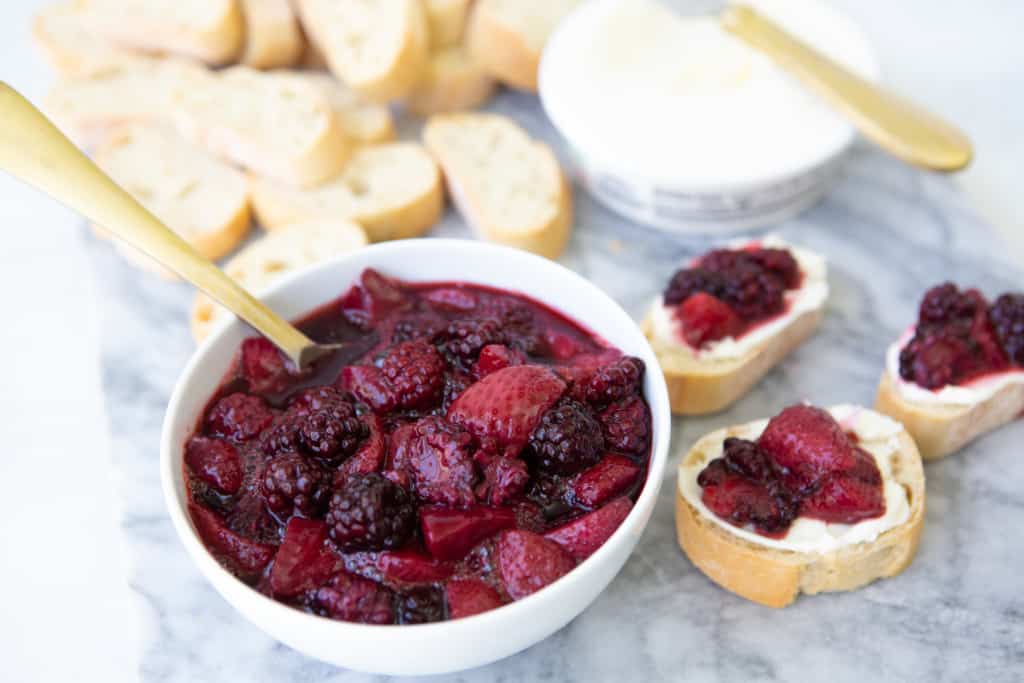 I've created an incredible Cabernet Berry Compote to serve on crostini along with creamy mascarpone cheese. All it takes is roasting fresh or frozen mixed berries in a little sugar and Cabernet Sauvignon and pure magic happens.
The Bear Bros. California Cabernet Sauvignon from ALDI is a juicy, full bodied red that compliments the berries beautifully.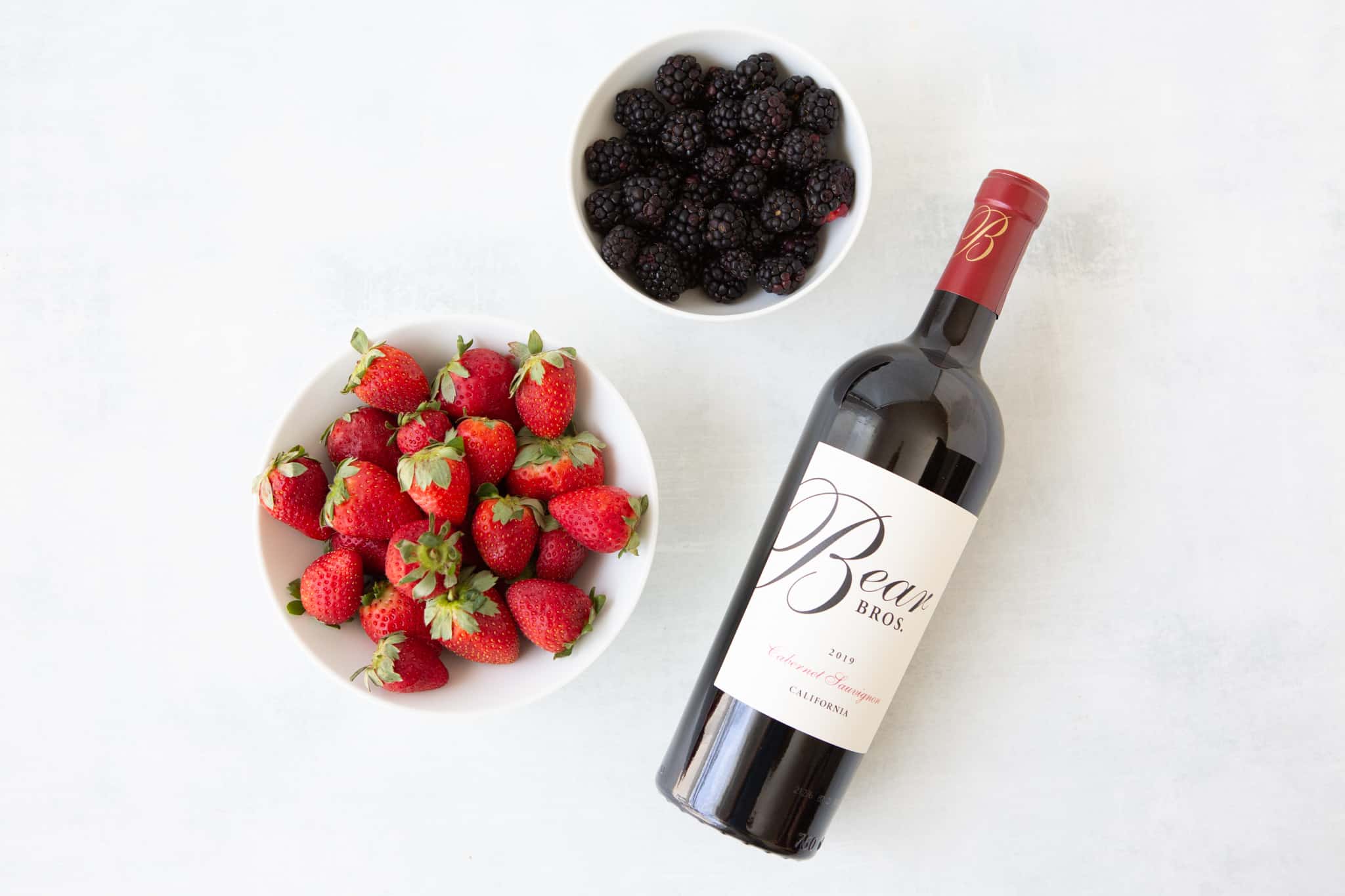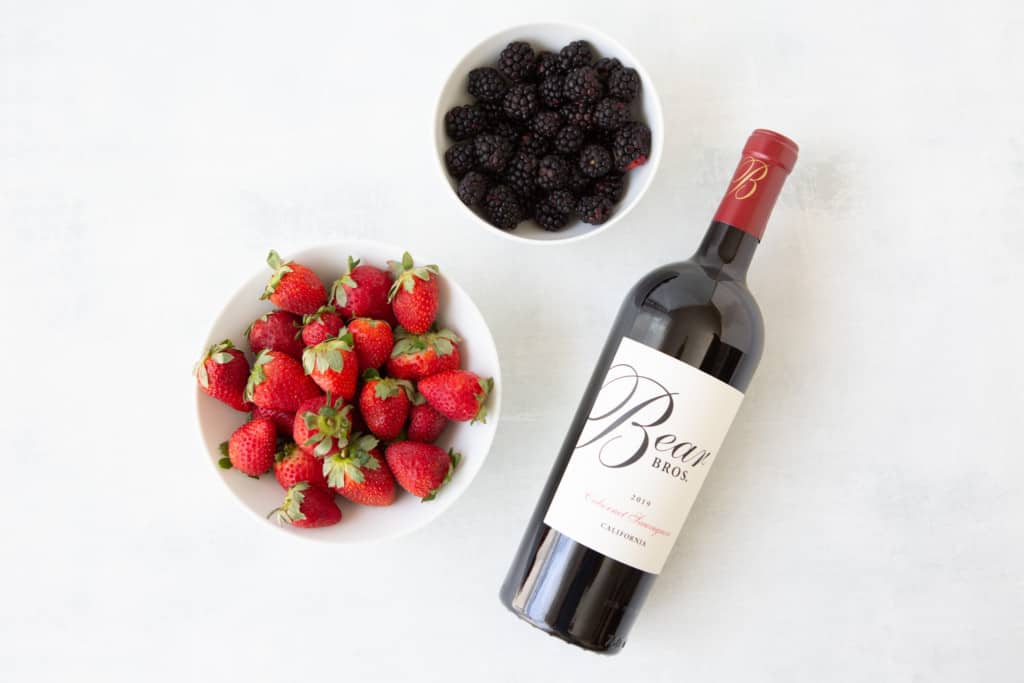 You can make this compote ahead of time and serve cold, room temperature, or warm at your Easter brunch. This Easter breakfast recipe is a fun way to add some color to your table as well.
Entree
A holiday meal idea that can meet a lot of needs and preferences is quiche. Quiche is basically an egg pie that you can flavor in a lot of different ways.
I created this Easy Quiche main course recipe that starts with 3 basic ingredients you can always find at ALDI: refrigerated pie dough, eggs and Greek yogurt.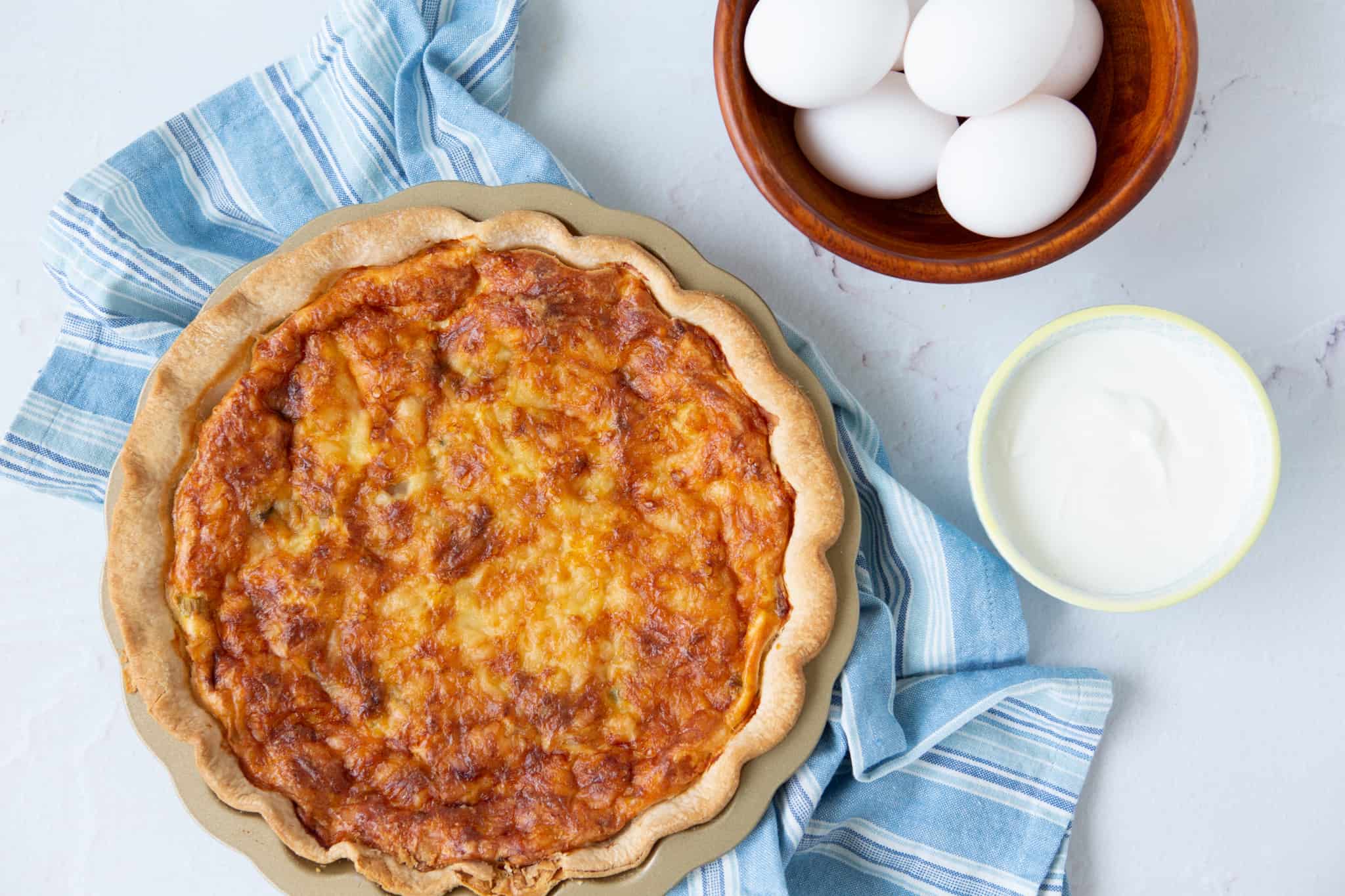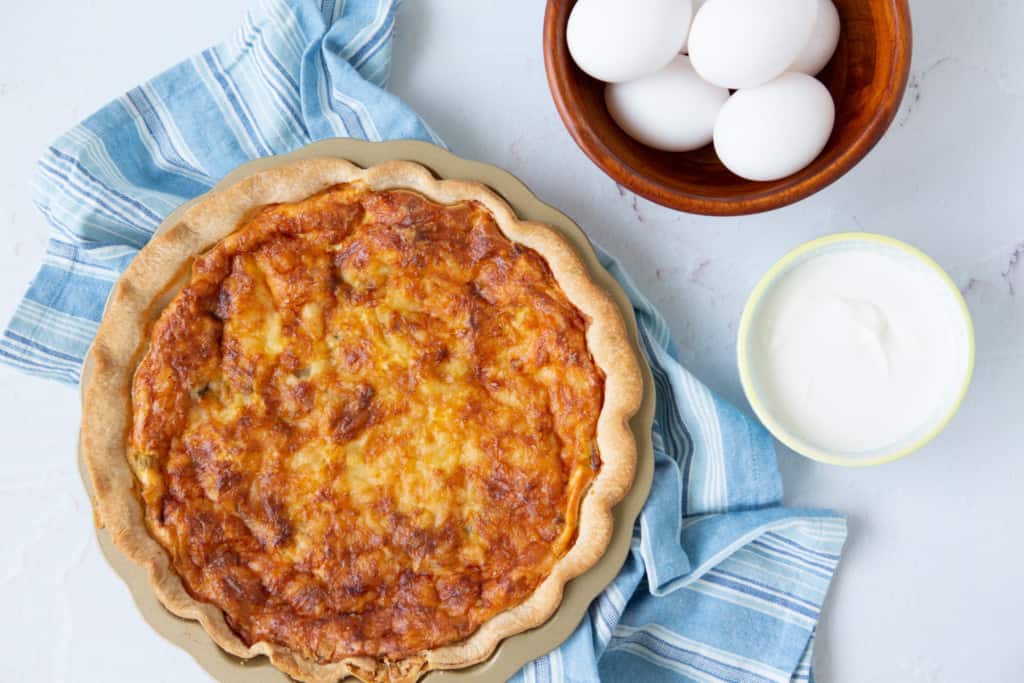 From there you can choose your mix-ins to add to your egg mixture, about 1 to 1 ½ cups total. I highly recommend chopped mini sweet peppers, green onions and either bacon or sausage. Or you could choose to do a western omelet quiche using onion, green bell pepper, and diced ham.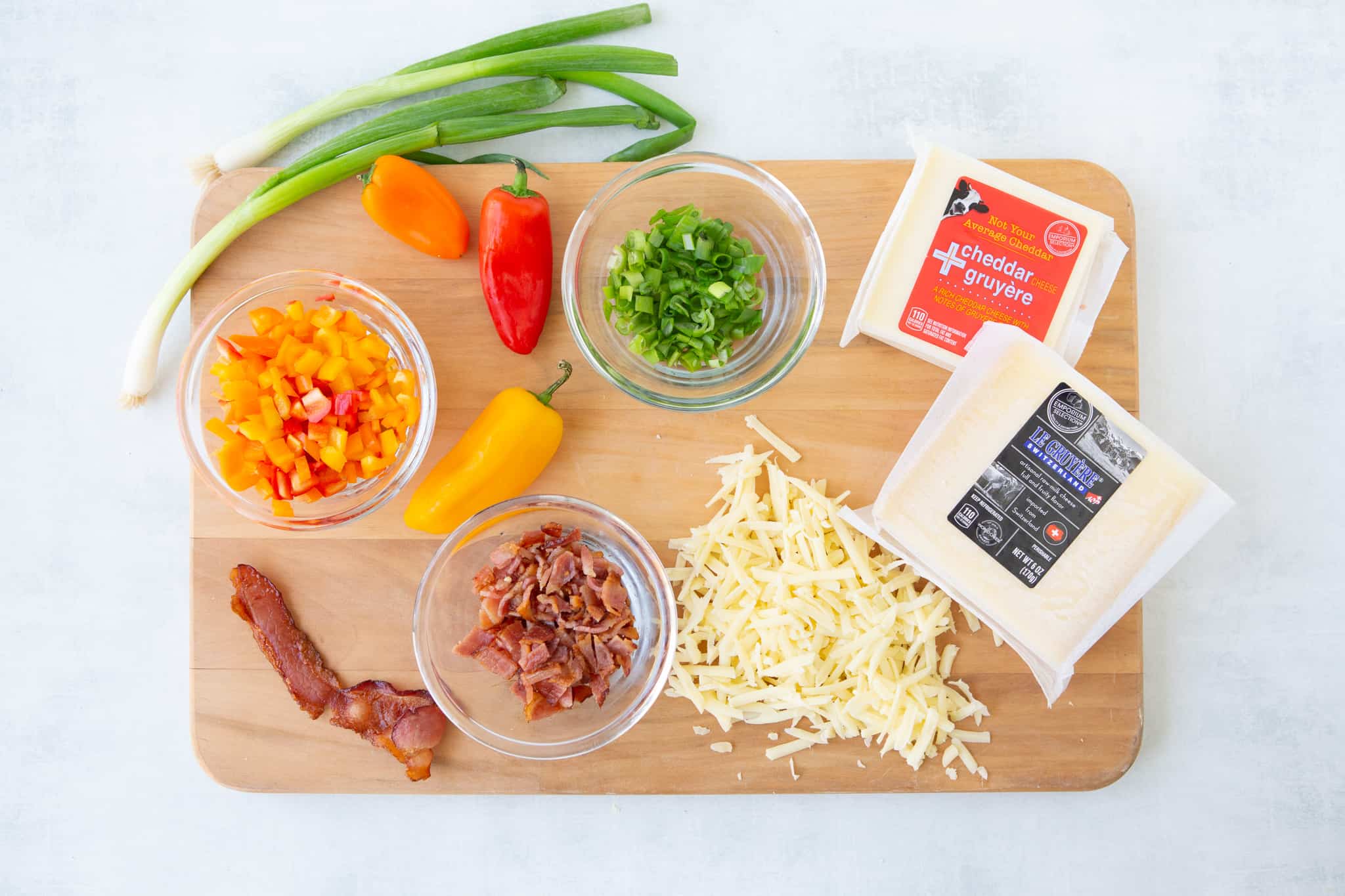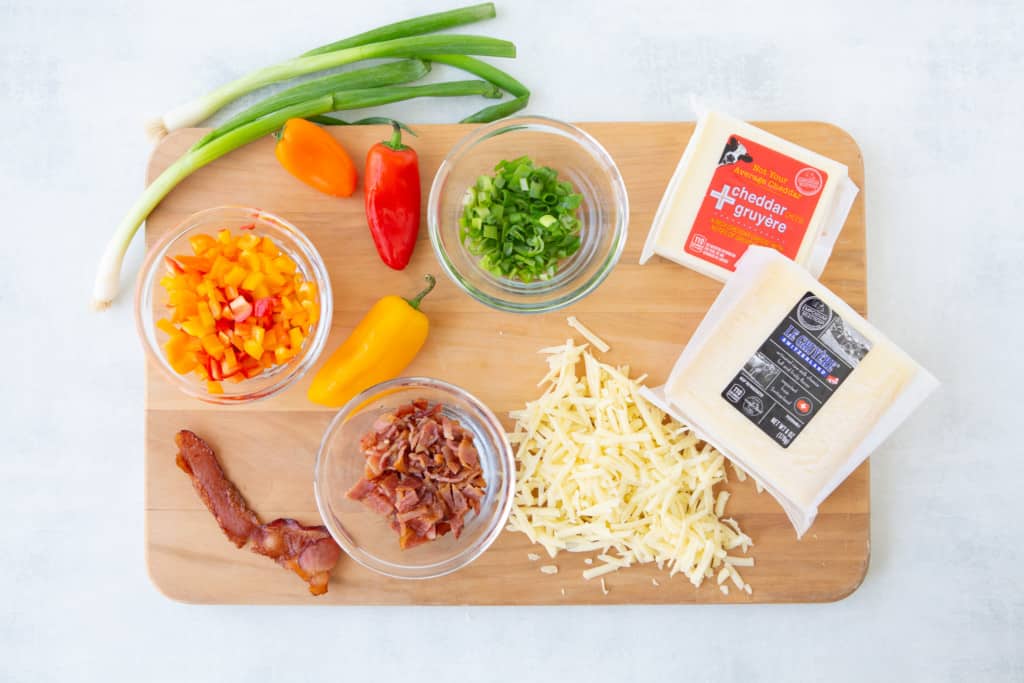 You also want one type of cheese. ALDI has a large selection of award-winning cheeses that will truly surprise you. I discovered this Gruyere Cheddar cheese and it was so fantastic in this delicious Easter brunch recipe.
Perhaps the best part about this easy Easter brunch recipe is that it works great to reheat for breakfast the next morning if you have any left over. Hopefully this tasty quiche recipe will become your new family tradition!
Dessert
No Easter brunch is complete without a sweet treat for dessert, but it has to be something special. But special doesn't have to come at the price of being complicated.
I created a Pistachio Blonde Brownie recipe with chocolate ganache because it's unique enough to be "special" but definitely not complicated.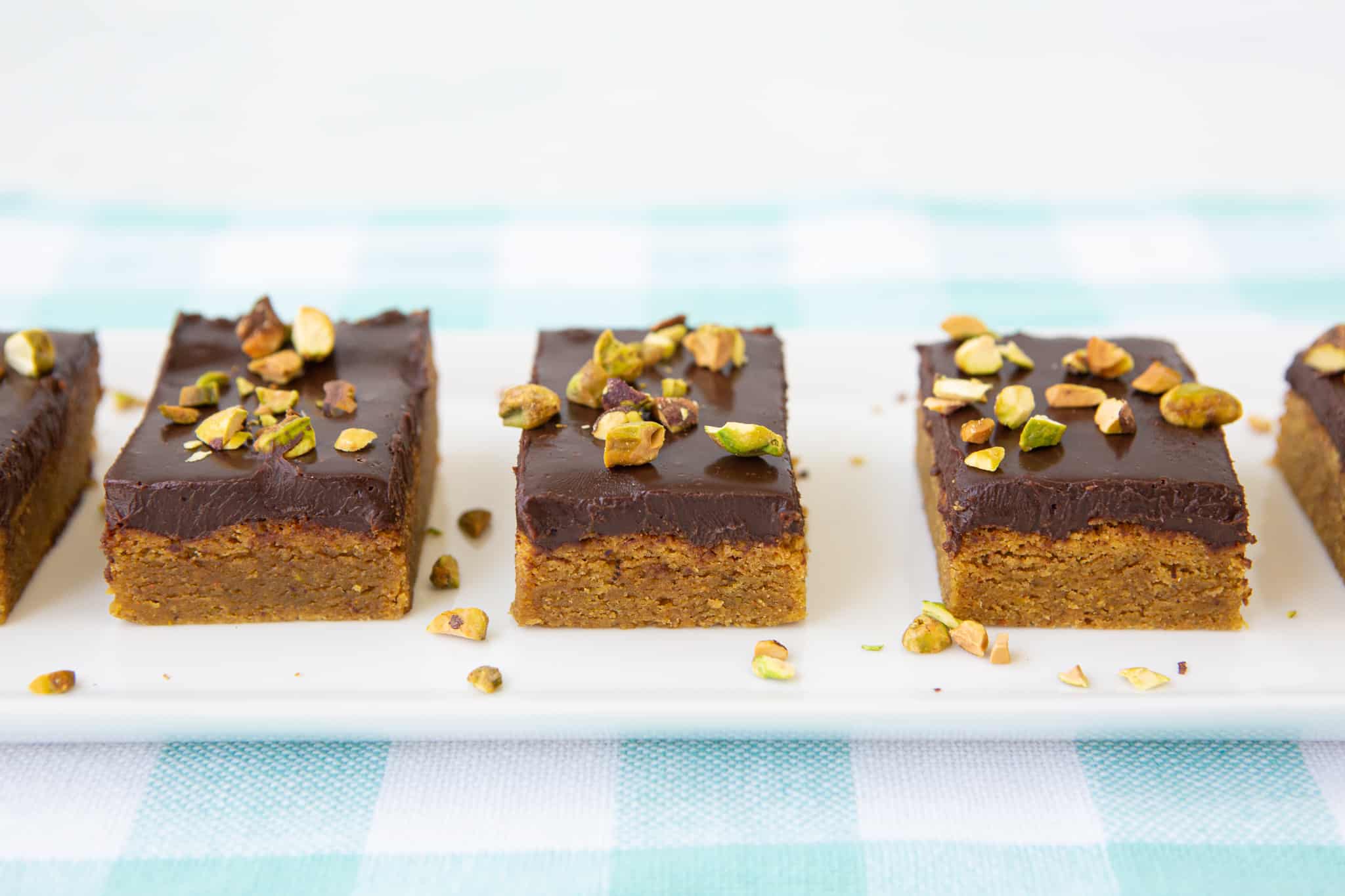 Choose a high quality chocolate for the ganache, like the Specially Select Belgium Semi-Sweet Chocolate Chunks from ALDI. You'll be so glad you did.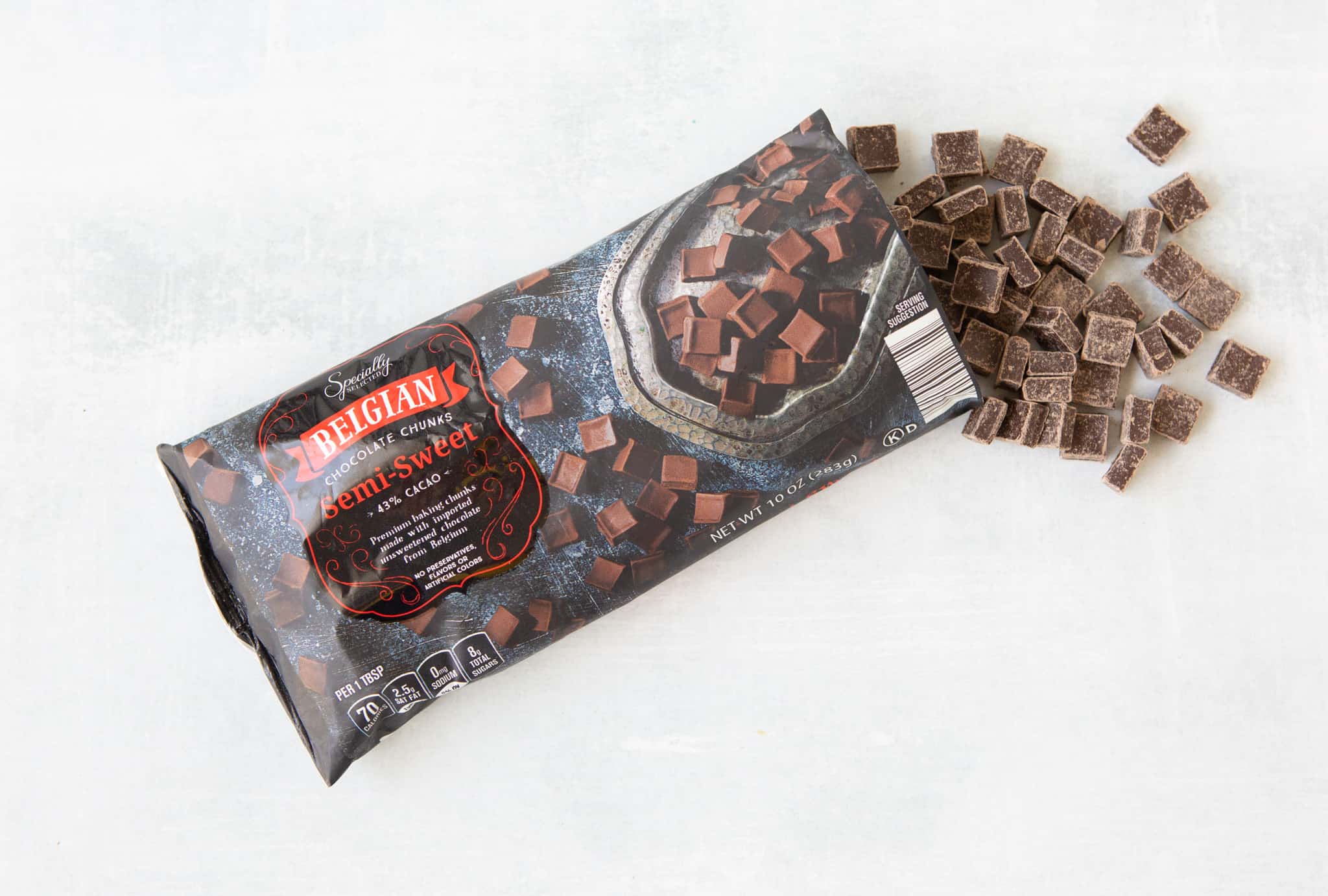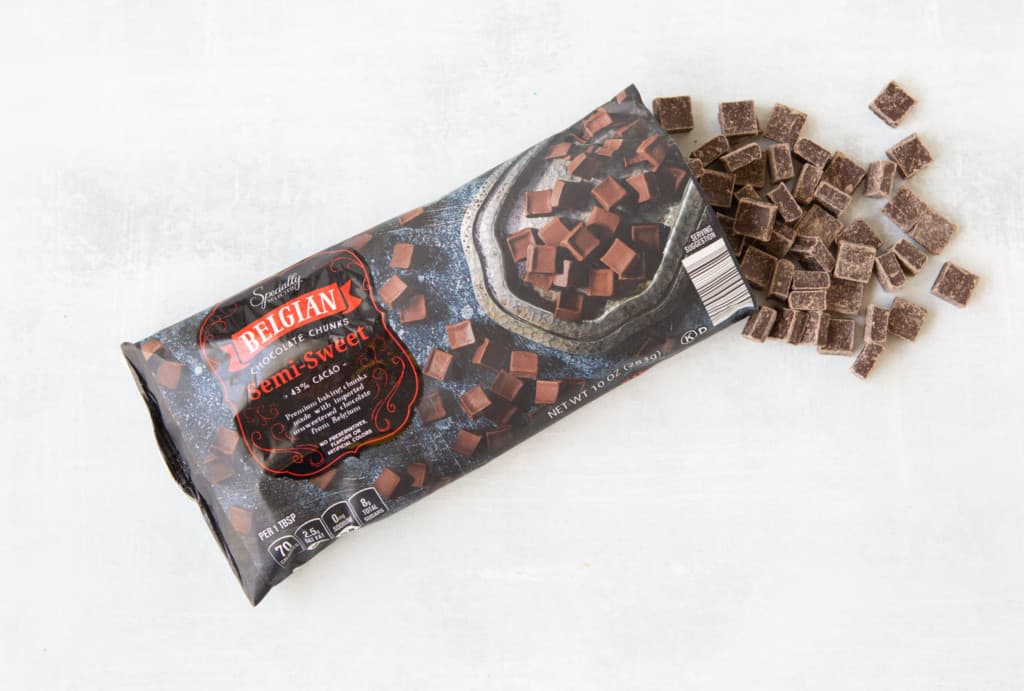 Drinks
Bubbly is always a great addition to a perfect Easter brunch menu, but don't just think of wine. At ALDI you'll find incredible wines but also a great selection of flavored sparkling waters to serve everyone at your family gatherings. Orange juice and coffee are good to have on hand for your guests as well.
Shopping Hack
Planning a special brunch menu, shopping and cooking takes time. It just does. If you're short on time, I've got a great shopping hack for you: Use the grocery pick-up or delivery service from ALDI.
Imagine, sitting at your kitchen table, calmly making your grocery list, taking the time to check if you actually need the items for recipes. Then you pull up the ALDI website, choose the exact items you want and the time you want to pick them up. Later that day (or days) you simply roll up to your local ALDI at a time most convenient for you, pop the trunk, and your groceries are placed inside your car.
Doesn't that sound amazing! It's not a dream; it's reality thanks to the curbside grocery pick-up through ALDI. If you've been hesitant to try this type of convenience shopping, it's time to experience its glory. Go for it! It is the perfect way to save you so much time during the holiday season or any time of year.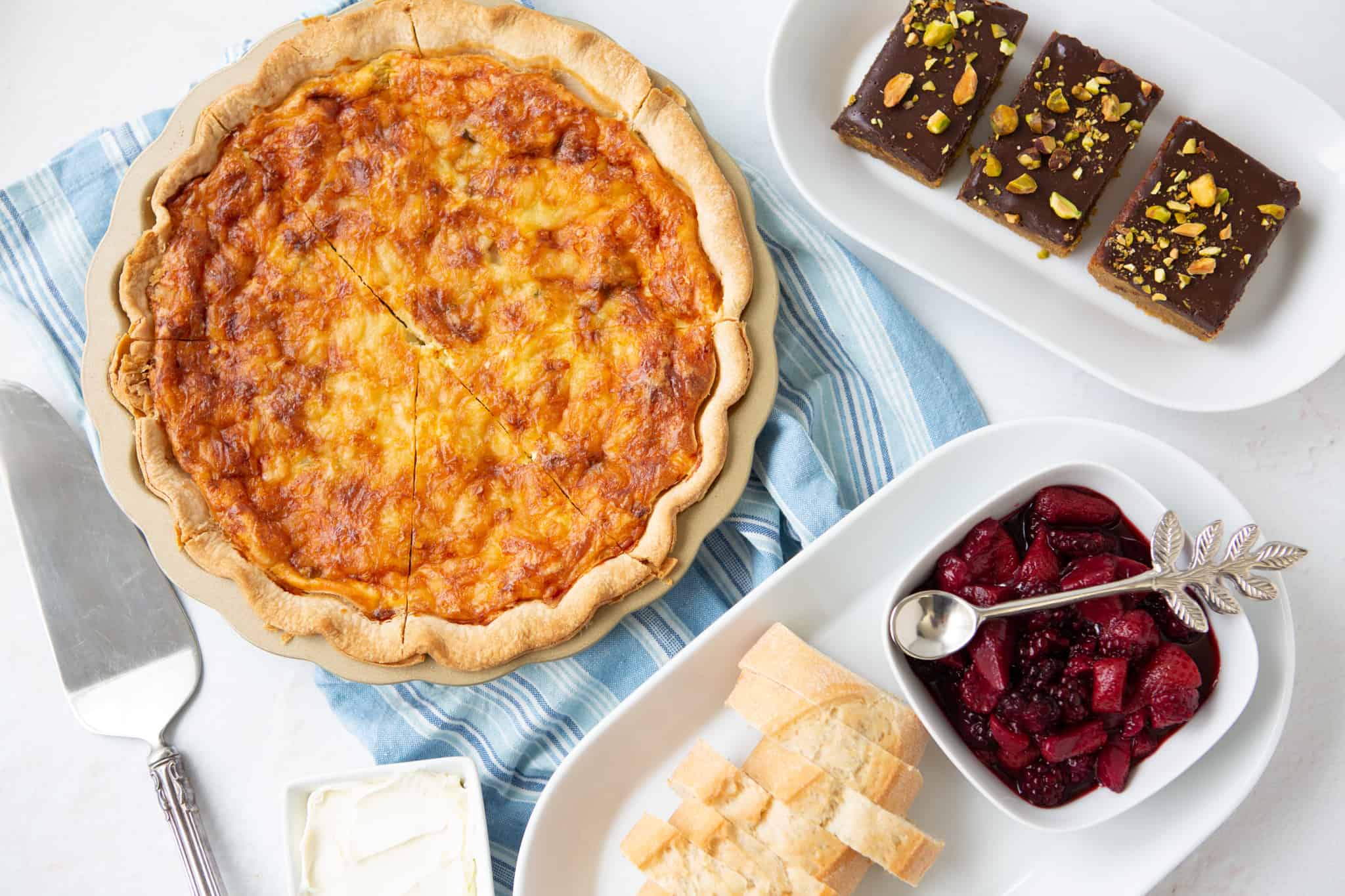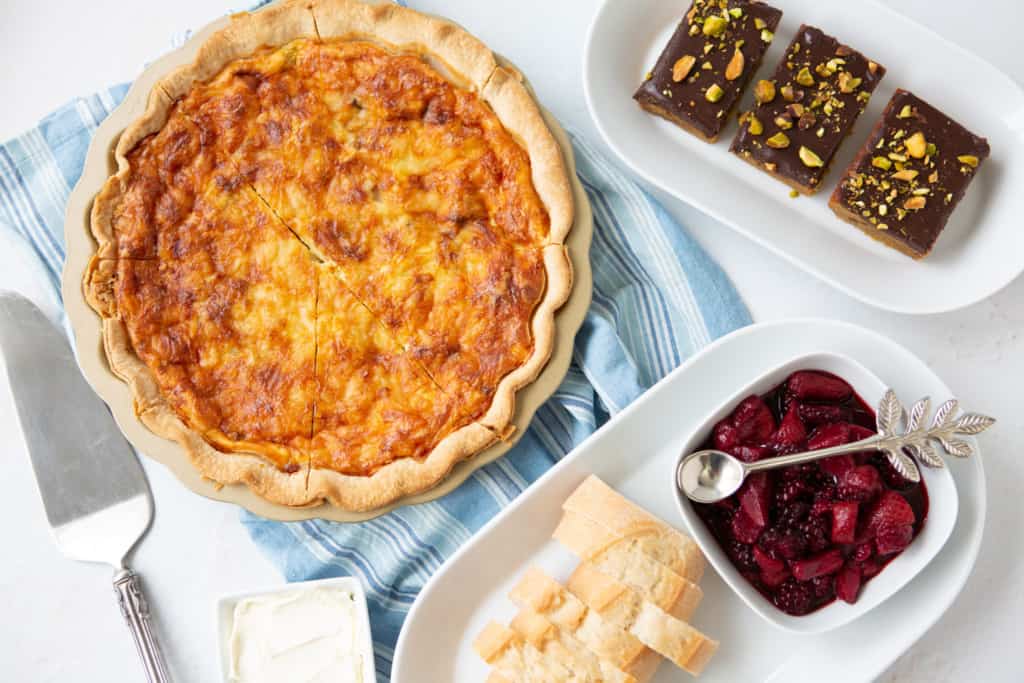 Shopping List
To help you out even more, I've put together a grocery list of all that you'll need to make these three easy Easter brunch ideas. 
If you're new to shopping at ALDI, it's important to know that 90% of their products are ALDI-exclusive items. Don't let that get you nervous because 1 in 3 of those exclusive products are award winning.
I've organized this by section of the store, not by recipe.
Produce
1 bag mini sweet bell peppers (or other options for quiche)
1 packaged green onions (or other option for quiche)
16 ounces fresh strawberries
6 ounces fresh blackberries
Refrigerated section
Bake House Creations refrigerated Pie Dough
1 dozen Golden Hen eggs
Simply Nature Organic Whole Milk Plain Yogurt
6 ounce block Emporium Selection Gruyere cheese (or other preferred cheese for quiche)
1 package Never Any Hickory Smoked Uncured Bacon (or other option for quiche)
1 tub mascarpone cheese
Countryside Creamery Sweet Cream Unsalted Butter
Friendly Farms Heavy Whipping Cream
Pantry
Simply Nature Organic Cane Sugar
Simply Nature Organic Light Brown Sugar
1 Specially Select French Baguette baton
6 ounce bag Souther Groves Shelled Pistachios
Baker's Corner All-Purpose Flour
Baker's Corner Baking Powder
1 bag Specially Select Belgium Semi-Sweet Chocolate Chunks or Baker's Corner Semi-Sweet Chocolate Chips
Hopefully this Easter menu will allow you to spend more time hiding Easter eggs and enjoying good food and less time in the kitchen during this fun time of year. After you try these healthy Easter brunch ideas, be sure to share and tag me on Instagram or Facebook!