The holidays are a tricky time to stay on track with healthy eating, but these 5 Make Healthy Easy holiday food survival tips (and recipes) will help you come out on top.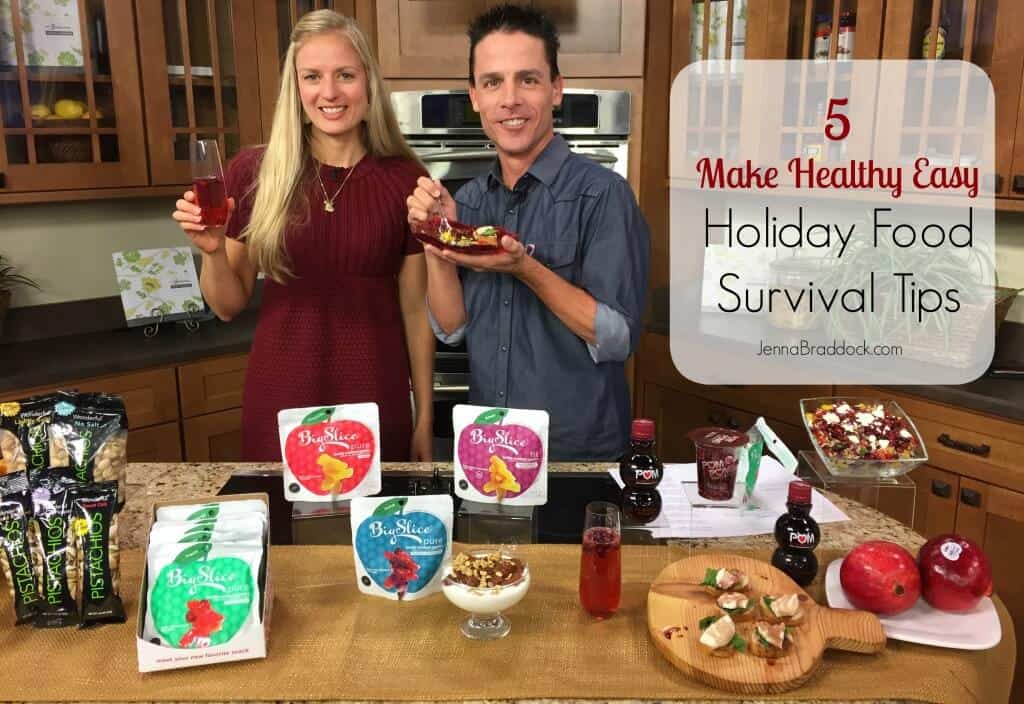 When you think about the holidays, what kind of feelings well up? Do you get warm fuzzies or perhaps get a little anxious about all the hubba-ba-loo that comes with this time of year?
I definitely love Thanksgiving and Christmas. Now that our boys are 2 and 4, things are really going to get fun.
But, I have to admit I do get a little anxiety about all the potential splurging opportunities that come with the holidays. As a sweet-lover, I often just can't resist all the wonderful homemade goodies. And hey, what's a holiday party without a really good glass of wine (I exaggerate here, but you know what I mean)?
What I've learned, and preach to myself and anyone else interested, is that you must be INTENTIONAL about holiday eating. The moment your brain goes on auto-pilot is when the Lost in Space robot starts chanting "DANGER! DANGER!"
This week I appeared on First Coast Living to share some easy tips for holiday survival. Check out the video clip below. Hopefully at least one of these ideas will be your secret weapon to a successful party season. Scroll down for more info and the recipes mentioned AND go all the way down to get my FREE Make Healthy Easy Party Planning Worksheet.
Thank you to Wonderful Pistachios, Big Slice, and POM Wonderful for sponsoring this segment. I love all these products and am so happy to work with them.
Tip #1: Keep healthy foods in eye sight.
What you see first is likely what you will choose to eat, or at least think about eating for a long time. Get the temptation treats off the counter and instead put tasty, healthy snacks like Halos and pistachios in eye sight.
Tip #2: Prioritize your indulgences & have a good backup plan.
Really think about what treats are worth the calories. Is it a particular type of Christmas cookie? Cake? Drink? Scalloped potatoes? Whatever it is, enjoy it! But for everything else, try to pass it up since it's not really your absolute favorite.
When are craving something sweet try Big Slice apples. People, these cooked apples are delicious! I'm telling you they will in fact quench that sweet tooth, all for about 100 calories. What I forgot to mention in my TV segment is that Big Slice is easily found on the fruit snacks isle of Target and Publix.
Tip #3: Eat breakfast.
Research shows that eating a protein rich breakfast can help curb your appetite all day long. A quick Greek yogurt parfait is an easy, nutritious option.
Tip #4: At parties, alternate between higher calorie and low calorie drinks.
It's easy to go overboard on drinks at parties. Throwing water, sparkling water, or my Pom Spritzer (75% sparkling water, 25% POM juice) into your mix will save your mega calories.
I also suggest using tall, skinny glasses as research shows using squatter, larger glass will lead you to drink about 30% more. I found these AMAZING shatterproof, stemless flutes on Amazon. I'll be using these for all my drinks forevermore.
Tip #5: Bring a healthy dish that you can enjoy and others will actually eat.
If you are anxious about healthy eating at a party, make sure YOU bring something healthy to eat. Let's face it, raw veggies on a holiday buffet spread probably won't be as exciting as spinach dip or creamy potatoes. BUT if you hide those veggies in a beautiful dish then you just might be in business!
Try this POM Salad that looks like it has jewels in it or Mozzarella, Pomegranate and Basil Bruschetta.
Get your Make Healthy Easy Party Planning Worksheet
If you want more help navigating the holiday party season, I would love to send you my Make Healthy Easy Party
Planning Worksheet. This helpful tool will run through steps to approach your party mind
fully and set you up for a successful experience.
To get your Make Healthy Easy Party Planning Worksheet, join my MHE e-newsletter community here:
Do you have any holiday food survival tips? Share them by leaving a comment below. And if you have a friend who might enjoy this info or the free worksheet, would you please pass this on to them? Thanks!
To having a super successful, delicious holiday season,
Jenna