This whole grain strawberry waffle with strawberry sauce is everything you are looking for in a healthier waffle, and more! The simple strawberry sauce is a divine topping, allowing you to forgo syrup and not miss it.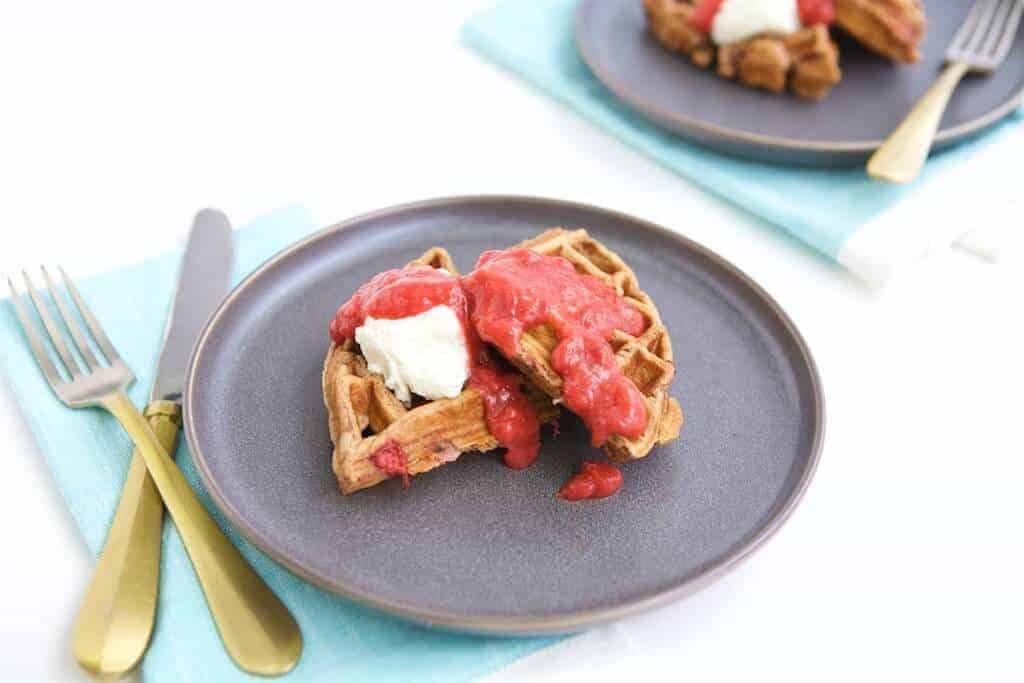 Are you a waffle or pancake person?
I'll be honest, I'm a pancake person. But, I recently conducted a very official poll on my Instagram stories about whether or not you like waffles, and a whopping 96% of you said "I love waffles!"
This got me thinking that I'm not meeting a recipe need on MHE that many of you may be wanting: a waffle recipe. So in my latest partnership with California Strawberries, I decided strawberries and waffles needed to meet in a go-to, healthier recipe.
Thank you California Strawberries for sponsoring this recipe post!
May I introduce you to: Whole Grain Strawberry Waffles with Strawberry Sauce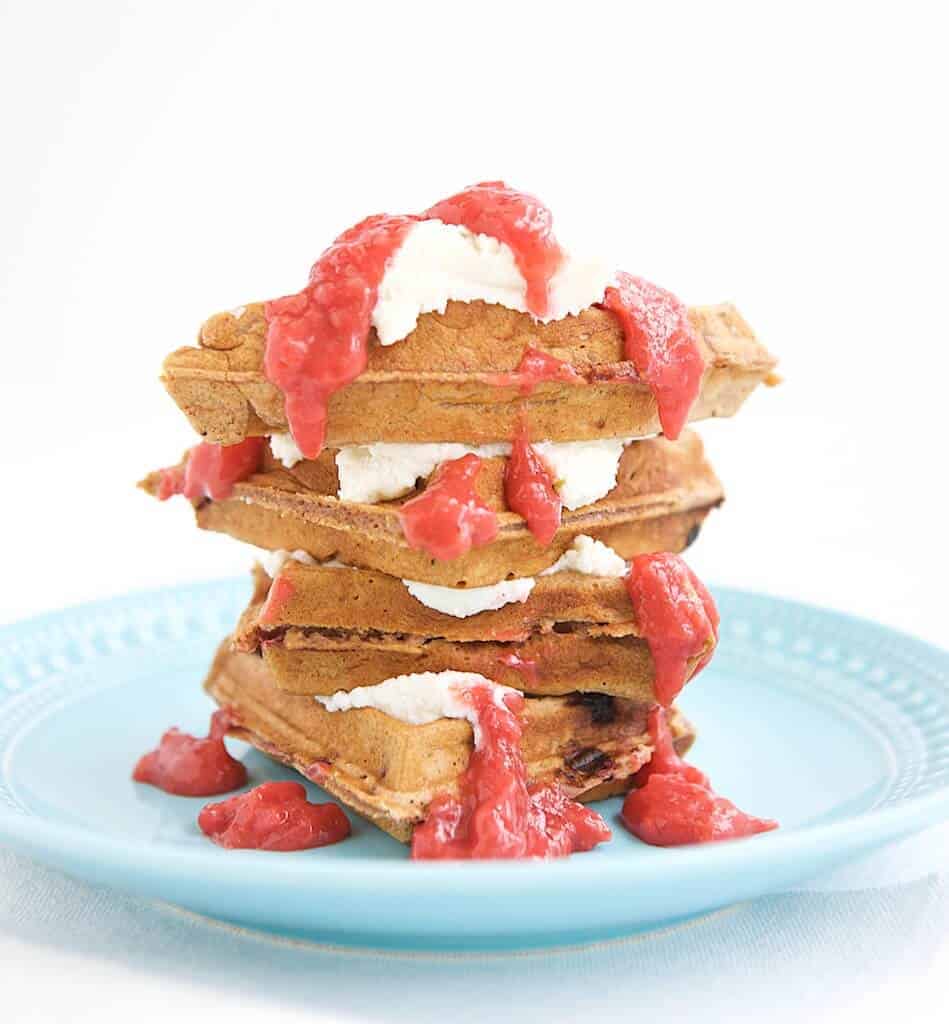 Guys, I have been testing waffles now! I've cracked open the textbooks to figure out how to get a crispy, flavorful waffle using whole grains and fruit. After 4 attempts (2 of which were just terrible) I finally found the recipe we loved!
Let's talk about the details of this recipe so you know exactly what's going on.
The first star of this waffle show are strawberries; frozen strawberries to be exact.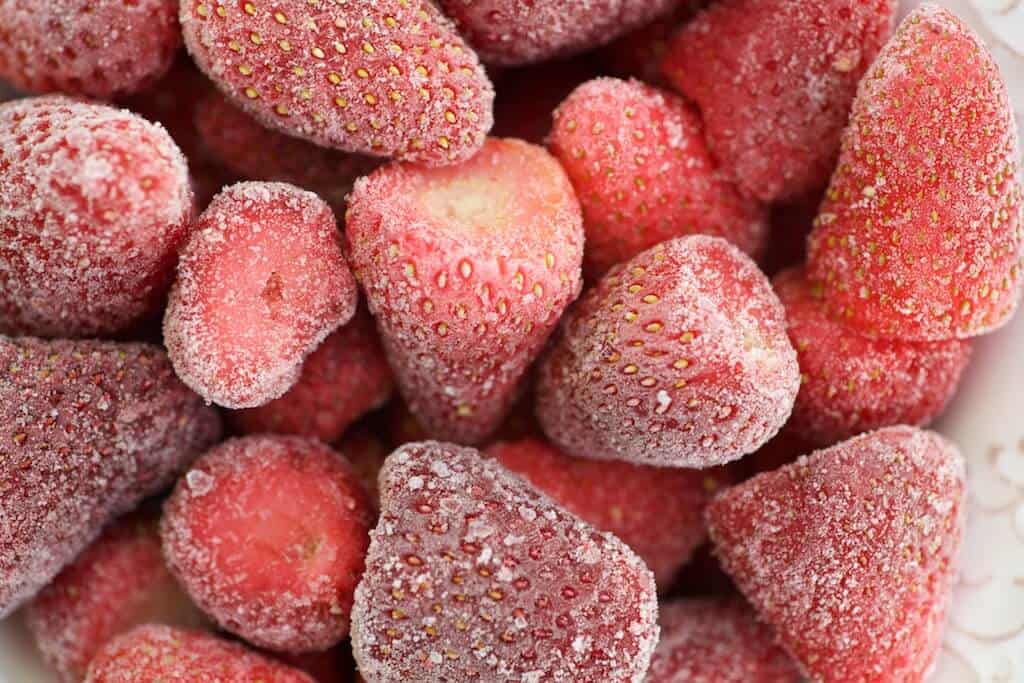 Frozen California strawberries are ideal because they are available year round. Strawberries are also naturally sweet and low in sugar, helping to keep added sugar down in this recipe. I used chopped strawberries in the waffles to add natural bursts of sweetness.
And then there's the strawberry sauce…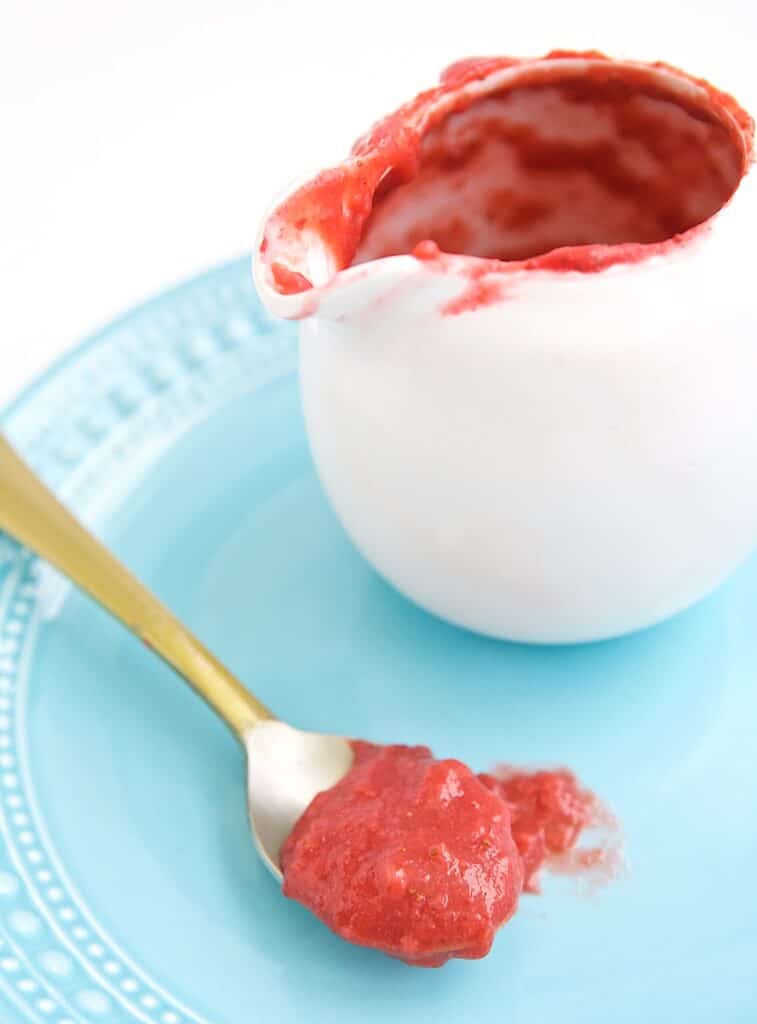 Oh this strawberry sauce is so amazing! I want to use it on everything! It has three simple ingredients: lots of frozen California strawberries, cornstarch to thicken it, and 2 tablespoons of sugar. Now, I think that you can make this successfully with a little less sugar or even leave it out altogether. That's another great reason to use frozen strawberries! Because they are picked at their peak of ripeness, they always taste amazing. But…a little sugar can't hurt. You make the call for you.
Next, let's talk about the waffle recipe itself.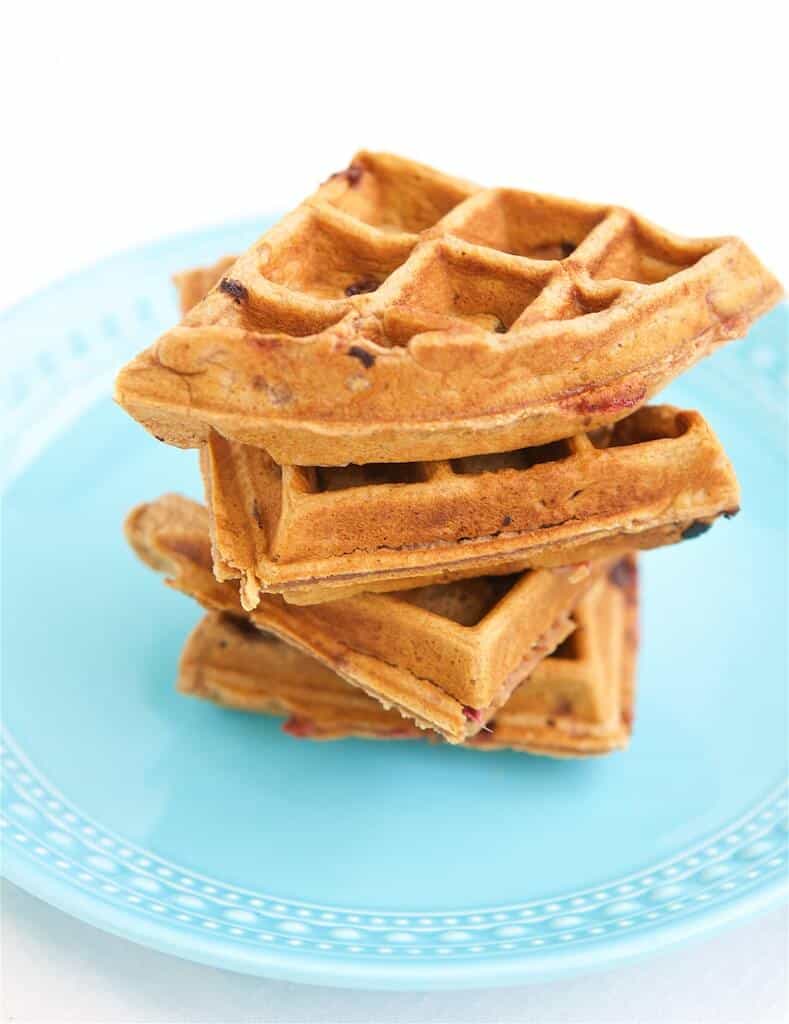 There's some unique features of this recipe. First, I added cocoa. Not only does this amp up the nutrition a little thanks to the flavonoids that can improve blood flow, but it also adds a nice depth to the flavor. I wouldn't say these taste like chocolate waffles, but there's something special to the flavor because of the cocoa. Next, I added cornstarch to the batter. In my food science research for this recipe, I discovered that cornstarch helps the waffle stay crisp on the outside. As far as I'm concerned, soggy waffles should be banished from society. Anyone else agree? I also chose to use whole wheat pastry flour, which gives the benefits of whole grains without weighing down your waffle like a paperweight. Lastly, I added yogurt to the batter to also give some interest to the flavor. All these things combine to give you a crispy and delectable waffle.
Now that you know the story behind these waffles, here's how you make them:

Whole Grain Strawberry Waffles with Strawberry Sauce
This whole grain strawberry waffle with strawberry sauce is everything you are looking for in a healthier waffle, and more! The simple strawberry sauce is a divine topping, allowing you to forgo syrup and not miss it.
Author:
Jenna Braddock, RD
Ingredients
1 cup whole wheat pastry flour
¾ cup all-purpose flour
2 tablespoons cocoa powder
¼ cup ground flax seed
¼ cup cornstarch
1 teaspoon baking powder
¼ cup + 2 tablespoons oil of choice
1 ½ cups milk
½ cup Greek yogurt, plain or vanilla
2 eggs
2 tablespoons sugar
1 tablespoon vanilla
1 cup frozen strawberries, chopped
2 cups part skim ricotta
-- Strawberry sauce --
3 cups frozen strawberries, slightly softened
2 tablespoons cornstarch
2 tablespoons sugar
Instructions
Preheat waffle iron. Preheat oven to 200 degrees F.
In a mixing bowl, whisk together flours, cocoa, flax seed, cornstarch, and baking powder to combine.
In a separate mixing bowl, whisk together oil, milk, yogurt, eggs, sugar, and vanilla.
Pour wet ingredients into dry ingredients and whisk together until smooth and no lumps are present. Fold in chopped strawberries.
Spray inside of waffle iron with cooking spray. Ladle batter on waffle iron, being careful not to pour too much. About ½ cup of batter per waffle square is a good starting place. Once waffle is done cooking, remove with tongs and put straight onto bare, pre-heated oven racks to keep warm until serving.
While the waffles are cooking, prepare strawberry sauce. Put 3 cups of slightly softened strawberries, cornstarch and sugar in blender or food processor. Pulse until strawberries are mealy and no large pieces remain. Pour contents into a saucepan and heat over medium low heat until a gentle boil occurs, about 5-8 minutes. Reduce to lowest setting until ready to serve.
To serve, top waffles with ½ cup ricotta per person, then pour strawberry sauce on top.
Notes
Tools needed: waffle iron, cooking spray, high powered blender or food processor, whisk
Tell me, how do you feel about waffles? How do you feel about
these
waffles? I hope you will give them a try and experience the goodness of California strawberries in waffle form.
Happy waffle-ing everyone!