With a few easy tips you can have a delicious AND healthy spread at your next football game. Check out these Make Healthy Easy Tailgating Tips.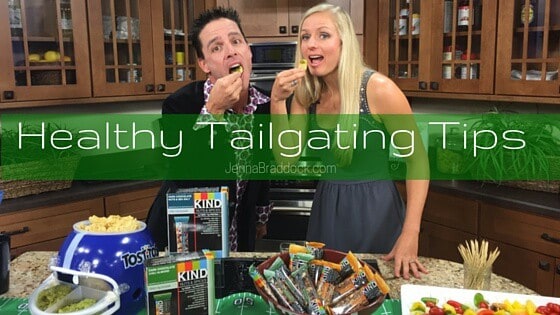 Last month I had a blast working with Tostitos and KIND Snacks on a Tailgating Tips TV segment in Jacksonville. Clearly, I love anything related to football so anytime I can blend my nutrition world with my football world I get pretty excited.
I recognize that football and delicious food go hand in hand for many people and I would NEVER want to separate the two just in the name of nutrition. So I made sure I shared some food ideas that really taste AWESOME and look like normal football food.
Maximize your dips with super flavorful and super healthy dips.
Dips can be such a delicious way to eat your fruits and veggies. Skip the heavy dips this year that rely on just cream cheese or sour cream for flavor. (Nothing wrong with those ingredients they just jack up the calories super quickly.)
You have to try this Citrus Salsa Verde. The flavor is incredible. It's packed with nutrients and is fairly low in calories. Plus, it's made by friend Deanna of Teaspoon of Spice.
How to Make Easy Guacamole
My other favorite go-to dips are organic salsa (pick your favorite kind) and of course guacamole. If I can, I like to make my own which is really simple to do. Find my Easy Guacamole Recipe here.
Serve sensible, delicious sweets.
I like serving a treat that packs a punch of flavor in a bite size or small serving form.
I have become a big KIND fan since working with them on TV segments. The Nuts and Spices line are so stinking delicious. And I am totally serious about my idea to cut them up into bite size pieces and serve them. The flavors are so unique that you constantly get a little surprise when you taste them.
If you're still not sold, try my Single Serve Salty Dark Chocolate Dipped Mandarins, Homemade Dark Chocolate Chunky Bars, or White Chocolate Dipped Pretzel Rods in your favorite team colors.
Serve Veggies on a Stick for Maximal Consumption
Who doesn't love food on a stick, especially while watching football? To help the humble vegetable hold a candle to all the other football food in your spread simply put them on a skewer and grill them like everything else. They'll fit right in and likely get eaten too!
I like to use fruits and veggies on my kabobs because it is colorful and adds natural sweetness. Get the recipe here for my Grilled Fruit & Vegetable Kabobs.
How do you healthy tailgate?
I want to know what you like to serve at your tailgates that's both delicious AND healthy. Leave a comment below and include a link to your favorite recipes.
Football Update
Since we are on the topic of football I just have to gush about Coach and his team. This Friday we are playing in our first playoff game since like 2008!! If we win, it will be the first time in school history to make it to the 2nd round of playoffs. Can you believe that!? Send up some prayers and good football vibes for us on Friday.
Here we are after our win last week for a perfect 10-0 regular season.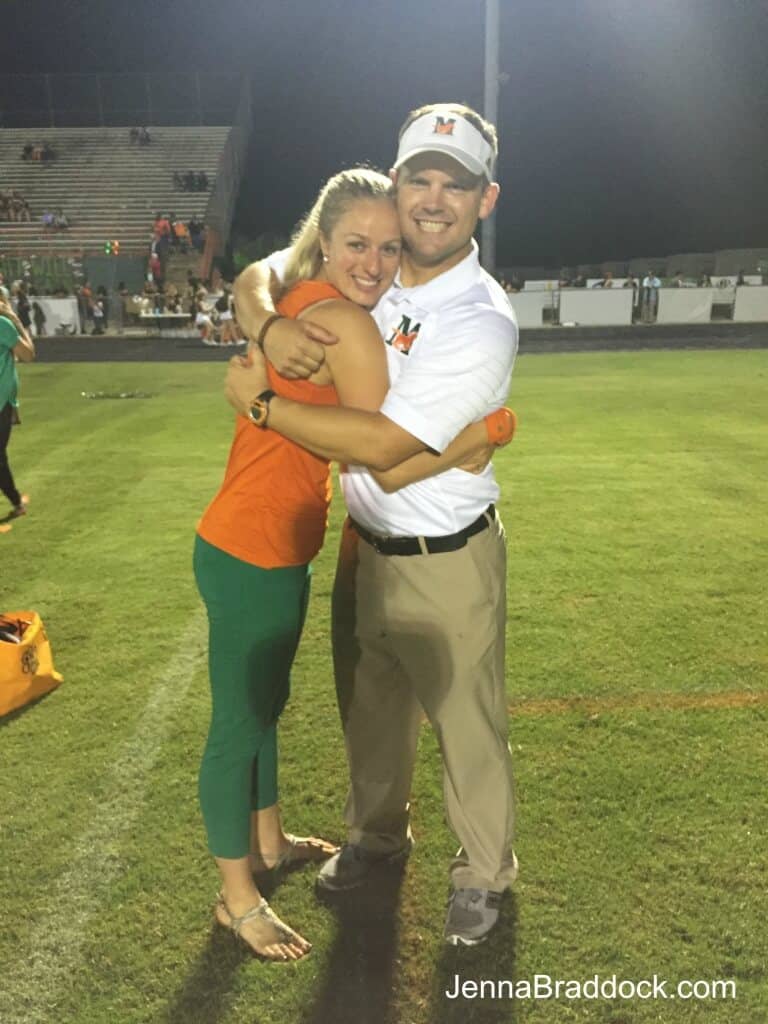 For the love of football and food,
Jenna