Jump to:
Who is a Good Fit for this Program?
Do you "know what you should eat but just aren't doing it"?
Are you confused about how to eat "healthy"?
Are you sick of having a diet mentality and you just want to feel good and enjoy food?
Are you tired of being tired?
If any of these questions resonate with you, you have come to the right place. This 6 week self-paced program will help you hit the mental reset button and empower you to know how you should eat to have great energy.
What is the Goal of this Program?
The big goal for this program is to help you learn to trust your body and become a confident eater who is able to apply balanced eating in any situation that comes your way. We will work through your mindset about food and your body as well as do-able techniques to learn what your unique body needs.
How does the Program Work or Flow?
Each week you will focus on a different foundational topic. There is a balance between lifestyle/behavior change principles and guidance on how to eat. Each module will house several videos with Jenna teaching the topic and worksheets to help you work through and implement the strategies suggested. You can work at your pace through the content but it is recommended to focus on one topic per week.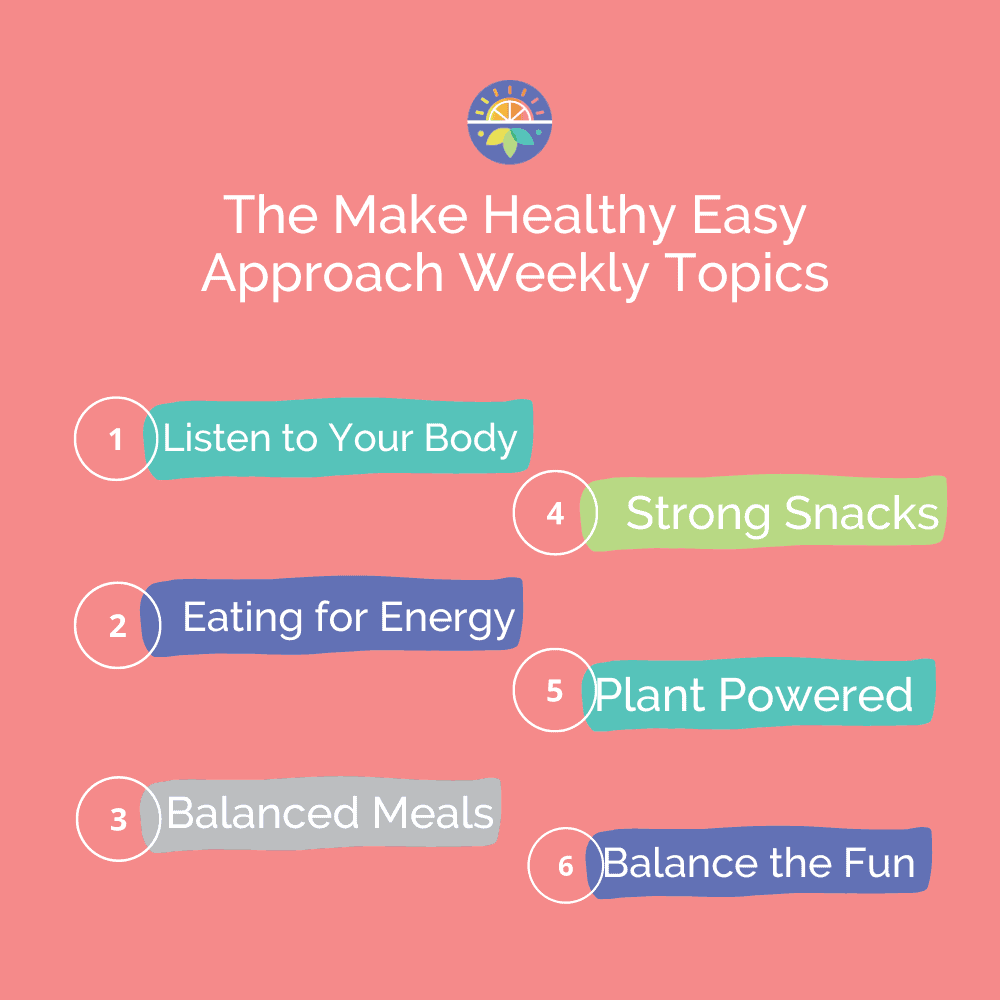 Course Outline
Week 1 - Listen to your Body

2 Video lessons
1 Worksheet

Week 2 - Eating for Energy

3 Video lessons
2 Worksheets

Week 3 - Building Balanced Meals

4 Video lessons
1 Guide
1 Worksheet

Week 4 - Strong Snacks

3 Video lessons
1 Snack Guide

Week 5 - Plant Powered

4 Video Lessons
1 Guide
1 Worksheet

Week 6 - Balance the Fun

4 Video lessons
1 Guide
1 Worksheet
What are the Dates for the Program?
The Make Healthy Easy Approach is available for you to begin now!
What is the Cost?
The cost for the 6 week program is $498. We happily offer a payment plan option of a $50 deposit and 8 weekly payments of $56.
If you would like the weekly payment option, be sure to check that option at checkout.
How Do I Sign Up?
Simply click the button below and you will be taken to Practice Better, Jenna's online practice software where the program is housed. You will be prompted to create your account after purchasing the program.
Testimonials
I thought the content of each topic was simple yet powerful. I thought our one on one time was impactful. I had so many aha moments just talking through my experience.

- Make Healthy Easy Approach client
When I first set up time with Jenna I had been struggling for years with doubts and lies around diet culture and fitness. I thought I didn't have it in me to live a healthy lifestyle. I wasn't self disciplined enough. After my first one on one session with Jenna I had a HUGE "aha" moment about my relationship with food! Food doesn't control me and I can exercise and LOVE IT! Having Jenna partner with me through my journey has been absolutely life changing! I am looking forward to a HEALTHY life and future!

- Make Healthy Easy Approach Client
Still Have Questions?
No problem. Email the Make Healthy Easy team at [email protected]