Summer veggies are the star of this simple and delicious Grilled Veggie Pizza recipe. If you've never grilled pizza then it's time to try! THIS is how you can make pizza light and healthy!
Team Braddock loves us some pizza.
In fact, if you asked Jackson and Ben, they would confirm that pizza is their favorite food, second only to "ham and cheese".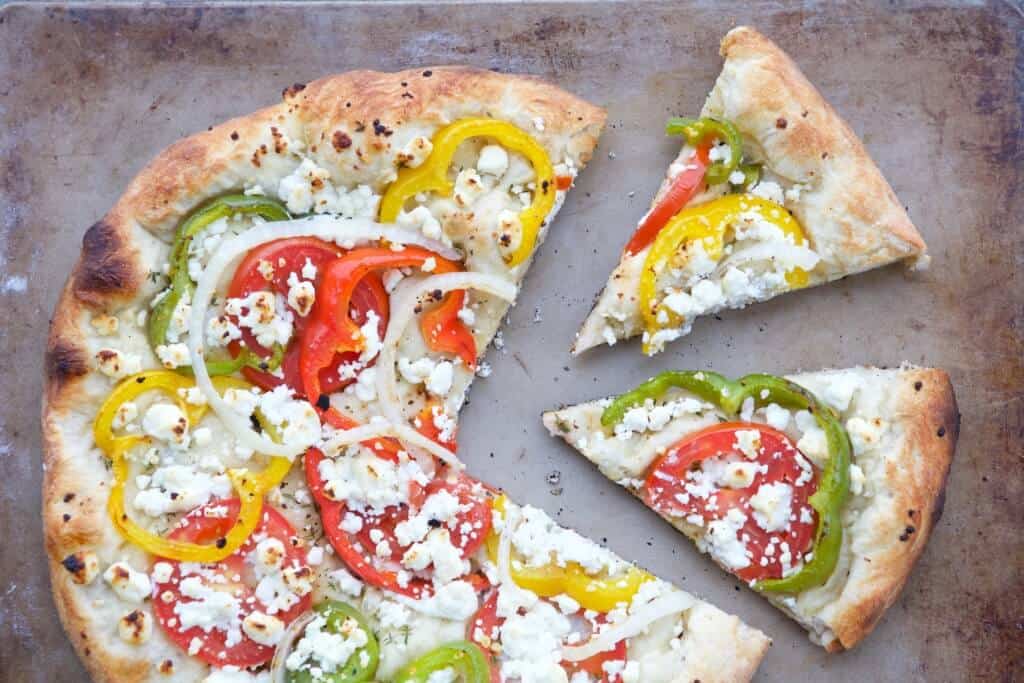 Thank you to the Georgia Fruit and Vegetable Growers Association for sponsoring this post on Summer Veggie Pizza. I was compensated to create this recipe and write this post. All opinions are my own.
Since we have a sincere love of pizza I want to be able to enjoy it on a weekly basis. See, our very favorite pizza is Mellow Mushroom, buuuttt their pizza is pretty indulgent. It's not the kind of pizza we can eat all the time and still be the healthy people we want to be. Plus, I find that having it only occasionally makes it tastes so much better.
How to make healthy pizza
So instead we have an almost weekly pizza night at home -- homemade style. Here's how we do it:
I buy pre-made dough from our grocery store. It's just easy. I do make it from scratch from time to time, which is also pretty easy but takes time.
I make my own pizza sauce to control sodium. It's really easy and I make a big batch of it to use on about 5-6 pizzas. I've been working on a recipe to share with you so stay tuned for that.
We always add lots of fruits and veggies like peppers, pineapple, tomatoes, olives, onions, garlic, fresh basil and more. It's fun to come up with new combos when we feel adventurous.
I don't load it up with cheese. Sure, pizza tastes great with a super thick layer of cheese, but you don't have to have that much to still taste good.
We always have a side salad with our pizza. It's usually something very simple but gets the job done. Our rule is you have to eat some salad before you go for seconds on pizza.
All these steps help us be able to enjoy pizza at home and make it more reasonable, even healthy! Some nights we throw a blanket on the floor of the living room and watch a movie while we eat. Everyone seems to love those nights just a bit more.
The Quest for Perfect Crust
The other thing I love about pizza night is the challenge of perfecting my crust. I want super crispy on the bottom but soft on top. It's tough! I've been cooking my pizzas in the oven at 500 degrees using a pizza pan. It works fine but it's not awesome.
I've been wanting to try grilling pizza for a while because I've heard it's the bee's knees for getting amazing crust. But I have to confess, that I was intimidated to try grilled pizza. It just seemed like a lot could go wrong so I avoided it for a long time.
When the Georgia Fruit and Vegetable Growers Association challenged me to create a recipe using summer veggies, the wheels of my recipe-developing brain started to turn and I decided THIS was just the opportunity I needed to conquer grilled pizza. Doesn't grilled veggies on grilled pizza just sound like summer dinner magic???!!!!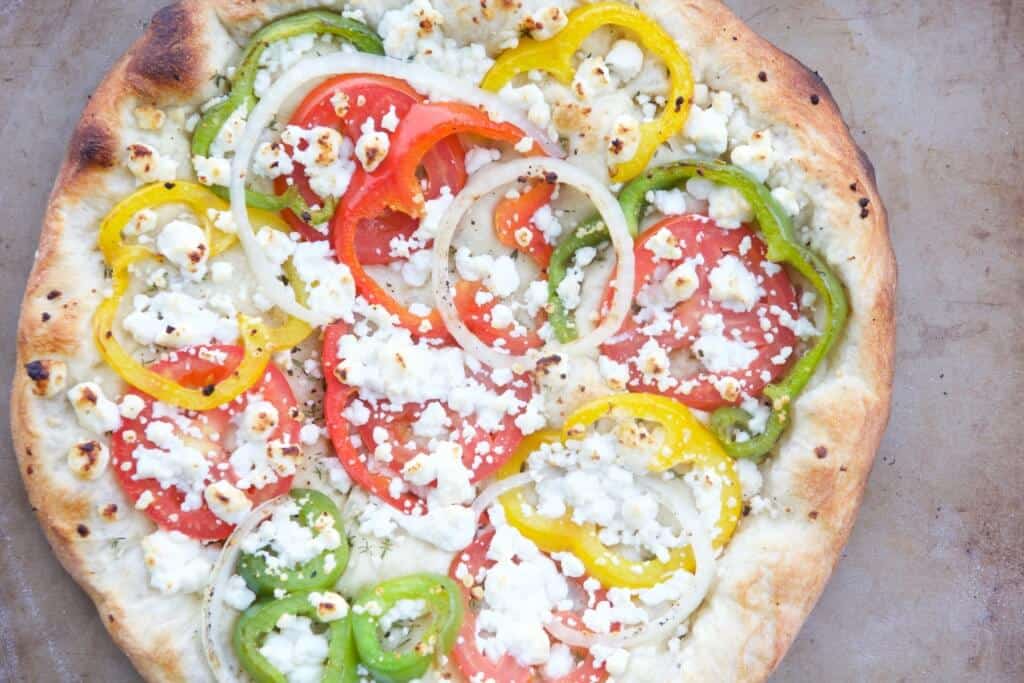 Well, I can tell you that it is magic!! And Team Braddock agrees. This recipe earned the coveted honor of: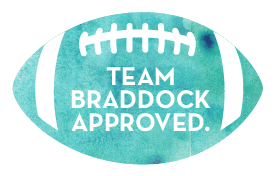 Besides amazing crust, the true stars of this pizza are the delicious, in-season (summer) vegetables Vidalia onion, bell peppers and tomatoes. They are a winning combination together and there's no comparison to eating these vegetables in-season! They just taste so much better.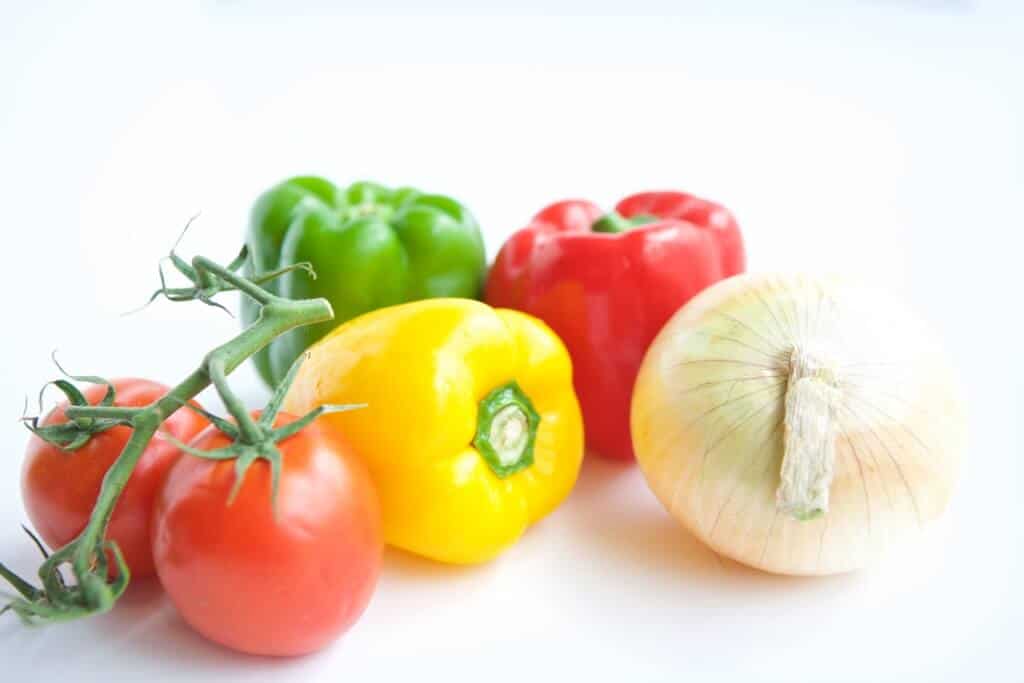 Thanks to all the veggies, this is a lighter pizza that is perfect for an easy dinner or even an appetizer while friends are gathering at your house. I served this for our family dinner one night and as an appetizer for a dinner party another night.
Before I give you the recipe, here are some important tips for this recipe:
Everyone's grill is different so it's important to experiment with how your grill works with pizza dough. The first time you try grilling pizza, buy an extra dough or two just in case you have a learning curve (as I did).
I own a 3 burner gas grill and found that cooking my pizza on indirect heat (turning a burner off and leaving 2 burners on) gave me my desired outcome. You might find you like cooking on direct heat. The goal is keep the temperature in your grill around 600 degrees F. I found hotter than that charred my crust too much. Again, I encourage you to experiment with your grill.
You don't have to have a pizza peel but it sure does help. They are not expensive and worth it if you plan on grilling pizzas somewhat regularly, which you might after trying it once. Here's one like I have for just $23: Pizza peel
I did try using a pizza stone on my grill for this recipe. However, the temperature was just too hot and it literally burned my stone black. No bueno. That's why I opted for the indirect heat method to prevent burning.
The goal of grilling the peppers and onions first is to just give them a little color, not cook them fully. You can skip this step all together and put raw veggies on your pizza if you would like. We like the grill flavor to come through in the veggies as well.
Make sure you generously flour the board or pan surface you roll out the dough on. It might seem like a lot, but in order for your board to easily slide off onto the grill it is necessary. I also found the pizza peel very helpful here but you could use a large grill spatula.
Now that you know the keys for success, you are ready to make Grilled Veggie Pizza!
Print
Recipe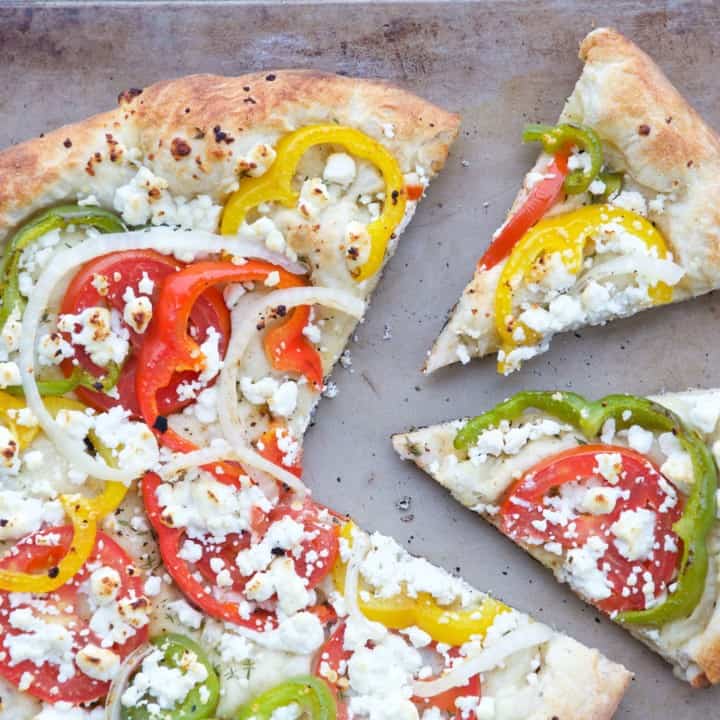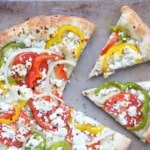 Grilled Veggie Pizza
---
Author:

Total Time:

34 minutes

Yield:

8

slices

1

x
Description
Summer veggies are the star of this simple and delicious Grilled Veggie Pizza recipe. If you've never grilled pizza then it's time to try! THIS is how you can make pizza light and healthy!
---
1

Vidalia onion (sliced in half across its "equator")

2

bell peppers (color of choice, deseeded and sliced in rings)
Vegetable oil

1

store bought raw pizza dough (enough for

one

pizza)

¼

cup

flour

1 tablespoon

extra virgin olive oil

1 teaspoon

dried Italian herb blend
Fresh cracked pepper

1

large beefsteak tomato (sliced in circles and deseeded)

4

oz

crumbled goat cheese
---
Instructions
Preheat grill with lid closed to high temperature, around 600 °F.
While grill is heating for pizza, grill the onions and peppers. Brush each cut side of the onion with vegetable oil. Toss the pepper rings with a small amount of vegetable oil, just to lightly coat, about 1-2 teaspoons. Lay onion, cut side down, on the heated grill and grill covered for about 5 minutes. Also lay the pepper rings on the grill and grill covered for about 1 minute per side. (The goal is not to fully cooked veggies, just give a little grill flavor and add grill marks.) When veggies are done, remove from grill, close lid and continue heating grill. Carefully slice the onion into rings.
Assemble the pizza: Generously flour a large flat cutting board or rimless baking sheet (preferred). Stretch or roll pizza dough to desired thickness and lay on board or baking sheet. Drizzle olive oil on dough and spread evenly to all the edges of the dough. Sprinkle oiled dough with cracked pepper and Italian seasoning and gently press the seasoning into the dough with your hands.
Layer the tomato slices, peppers and onions on pizza as desired. Gently press the veggies into the dough to help them stay in place. Sprinkle goat cheese on top of pizza.
Grill pizza: Turn off one burner of preheated grill. Oil grill grates above the off burner. Slide pizza off pan and onto oiled grill. Close lid quickly and cook for about 4 minutes.
Open lid and use a pizza peel or large grilling spatula to turn the pizza 180° on the grill. Close lid and continue grill for about 4-5 minutes, until edges are golden brown. Total cook time will vary based on grill and temperature.
Use pizza peel or large spatula to slide pizza off the grill and back onto baking sheet. Allow to cool for about 5 minutes and slice into wedges. Enjoy!
Notes
The goal temperature for cooking the pizza is to stay around 600 degrees. You may have to play with your temperature settings to keep your grill at that temp. Another option for smaller grills with only 2 burners is to set one burner to medium temperature and keep one to high.
You can bake this pizza instead of grilling. Preheat oven to 500 degrees. Bake pizza for 10-12 minutes.
Prep Time:

25 minutes

Cook Time:

9 minutes

Category:

Vegetarian

Cuisine:

American
Keywords: Grilled pizza recipe, veggie pizza recipe, how to grill pizza
I hope you give grilled pizza a try and not put it off due to intimidation, like I did. It truly is a game changer to making delicious homemade pizza along with using in-season vegetables like peppers, onions and tomatoes. Remember adding lots of veggies is a great way to make pizza healthier and a food you can enjoy more regularly so add them to your grocery list now!
Don't let summer slip away without enjoying massive amounts of delicious, in-season fruits and veggies. Check out the Georgia Fruit and Vegetable Growers Association's blog Produce Bites for more recipes and ideas on using produce in your everyday life. It's a great resource to help you get creative.
For the love of pizza and veggies,
Jenna