This Quick Chickpea Curry is easy to make any night of the week. It's packed with veggies and has an extra kick of turmeric for added antioxidants. It's easy to use any vegetables you have on hand.
I have to confess, I don't eat as much Indian food as I wish I did. Coach just isn't a big fan, sadly. Really, the only way I know I like Indian food has come from some girls-night-outs at some delicious restaurants over the years.
Secretly, between you and me, I am hoping to cultivate an Indian food-loving son (or two) so that I have a reason to eat it more frequently in the future. But shhhhhh, don't tell, ok?
I dream of an exotic Indian-themed family dinner at home, but that just may not be a reality for me, for now. In the meantime, I've figured out a recipe for a super quick curry that I can make for dinner when it's just me and the boys.
I actually came up with this last spring and posted this pic on Instagram. It some love (thank you so much) but when the time came to type it up for the 'ol blog, I couldn't find my recipe notes anywhere! Super stink! So this week I had a hankerin for curry and whipped this recipe up again for lunch with the boys.
When I say "whipped up" I mean it literally. This recipe took under 25 minutes to make since I already had cooked rice in the fridge. Keeping the shelf stable ingredients of this recipe around will make it easy for you to whip this us any 'ol day too. And you can throw in pretty much any mix of veggies that you have in the produce drawer. Win! Don't be afraid to use both the stalks and florets of the broccoli and cauliflower too so nothing goes to waste. Simply peel the the stalks to remove the toughest part and slice the stalk into medallions.
This recipe is comforting, warm and so nutritious. It's great for a rainy summer night or a cool fall day. I also added extra turmeric to boost the antioxidant power.  Check out the bottom of the recipe for the substitution notes because there's a lot of ways to change this up.
I hope you enjoy trying this really simple, exotic (at least for Team Braddock) recipe that I enjoy and it looks like my boys might like it too.
Dreaming of Indian Food,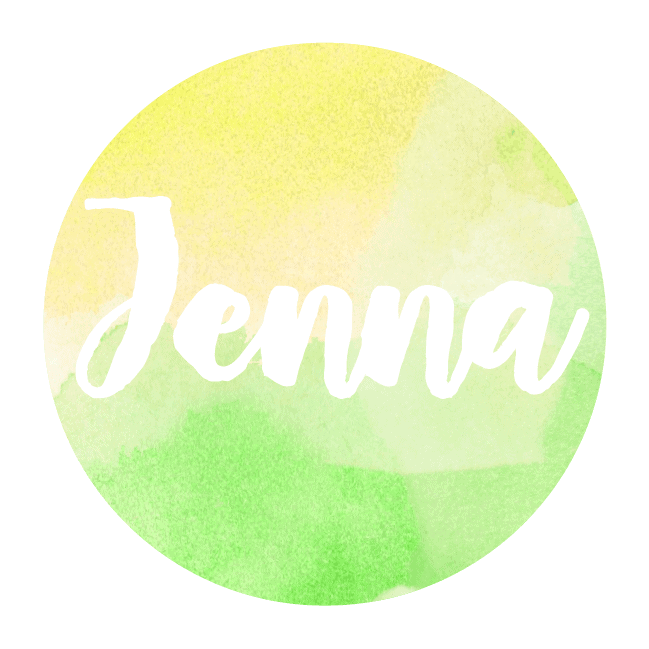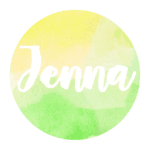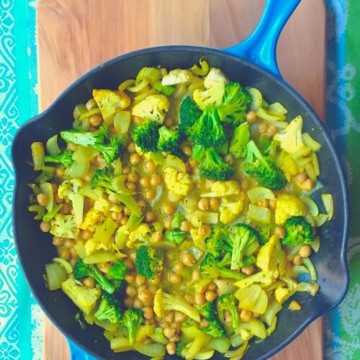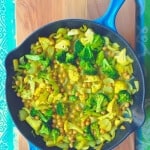 Print Recipe
Quick Chickpea Curry
This quick chickpea curry is easy to make any night of the week. It's packed with veggies and has an extra kick of turmeric for added antioxidants. It's easy to use any vegetables you have on hand.
Ingredients
1

tablespoon

olive oil or coconut oil

1-2

tablespoons

green curry paste

to preference

½

large yellow onion

sliced

3

garlic cloves

finely chopped

1

cup

chopped broccoli

stalks and florets

1

cup

chopped cauliflower

stalks and florets

1

cup

celery

chopped in half moons

1

cup

cooked or canned chickpeas

drained and rinsed

1

can

light coconut milk

14 oz

1

teaspoon

turmeric powder

optional

⅔

cup

fresh basil leaves

chopped (optional)
Instructions
Heat a large skillet over medium heat. Add oil once heated.

Add curry paste to oil and toast until fragrant, about 30 seconds. Add onion and all vegetables. Stir to combine with curry and cook until crisp-tender, about 8 minutes. Stir frequently to prevent any burning.

Pour in coconut milk and add turmeric and chickpeas. Stir to combine and allow to come to a low boil. Reduce temperature to low and simmer, uncovered, for 5 minutes.

Remove from heat. Serve over rice, quinoa or noodles. Sprinkle with basil as a garnish.
Notes
Leeks can be substituted for onions. You do not have to use all the vegetables listed and you can use less quantities if you are making this dish for less people. Use more or less curry paste depending on your preference for the flavor and heat. Curry powder can be substituted for curry paste but be careful to not burn it in step 2. Less coconut milk can be used if making a smaller portion.