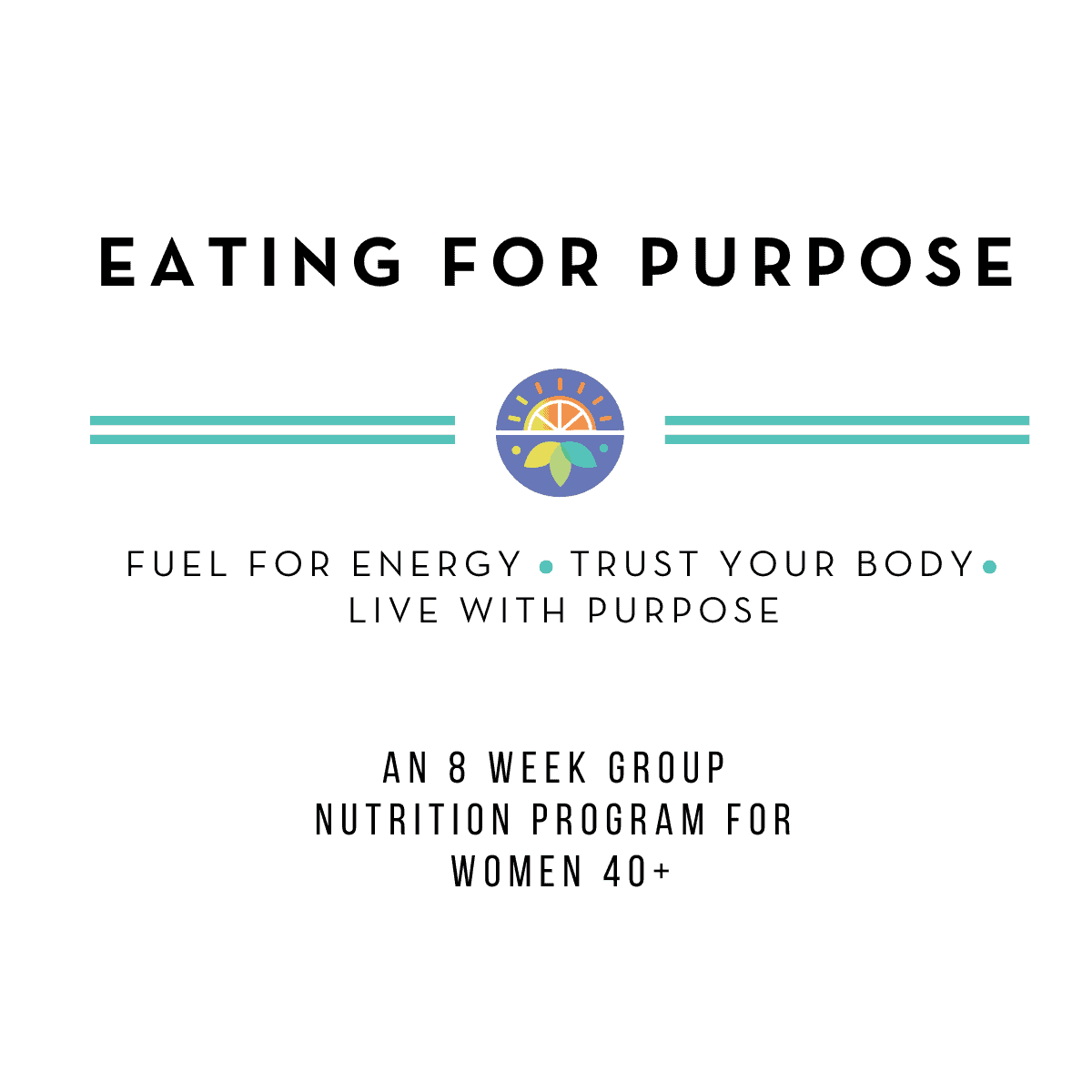 Eating for Purpose is an 8 week group nutrition program designed to help you become a more confident eater, discover your purpose, and develop an eating style that supports what's important to you.
Jump to:
WHEN DOES THE PROGRAM START?
The third round of Eating for Purpose in 2023 will start September 17th and run through November 11th.
GROUP FOCUS
The Fall 2023 program will be a special cohort for women 40+.
As you hit middle age it can feel like your body has completely changed. The stigma around menopause can also be a haunting reality that leaves you feeling powerless. Perhaps the strategies you've used in the past to feel good are no longer working.
If you're ready to learn how to eat for this season of life, this 8 week group program will help you hit the mental reset button and empower you to know how you should eat to have great energy.
The weekly live zoom sessions will have a special focus on the topics as it relates to all stages of menopause. These sessions take place Fridays at 12pm ET each week during the program.
WHO IS A GOOD FIT FOR THIS PROGRAM
The big goal for this program is to help you learn to trust your body and become a confident eater, able to apply balanced eating in any situation that comes your way. We will work through your mindset about food and your body as well as do-able techniques to learn what your unique body needs.
This course entails a hybrid style of learning meaning most of the material you will work through on your own schedule during the week and also have the opportunity to join a weekly live Zoom call for an interactive, group experience. The weekly live call will be recorded and available to watch on your own if you cannot make it live.
WHAT IS THE FLOW OF THE PROGRAM?
Each week you will focus on a different foundational topic. There is a balance between lifestyle/behavior change principles and guidance on how to eat.
Each module will house several videos with Jenna teaching the topic and worksheets to help you work through and implement the strategies suggested. There will be also be a live group session each week (Fridays at 12pm ET) to join or rewatch where we connect as a group and talk through the topic of the week and discuss it in light of being a women 40+. During the live sessions we will discuss the week's topic and bring in information related to the menopause journey.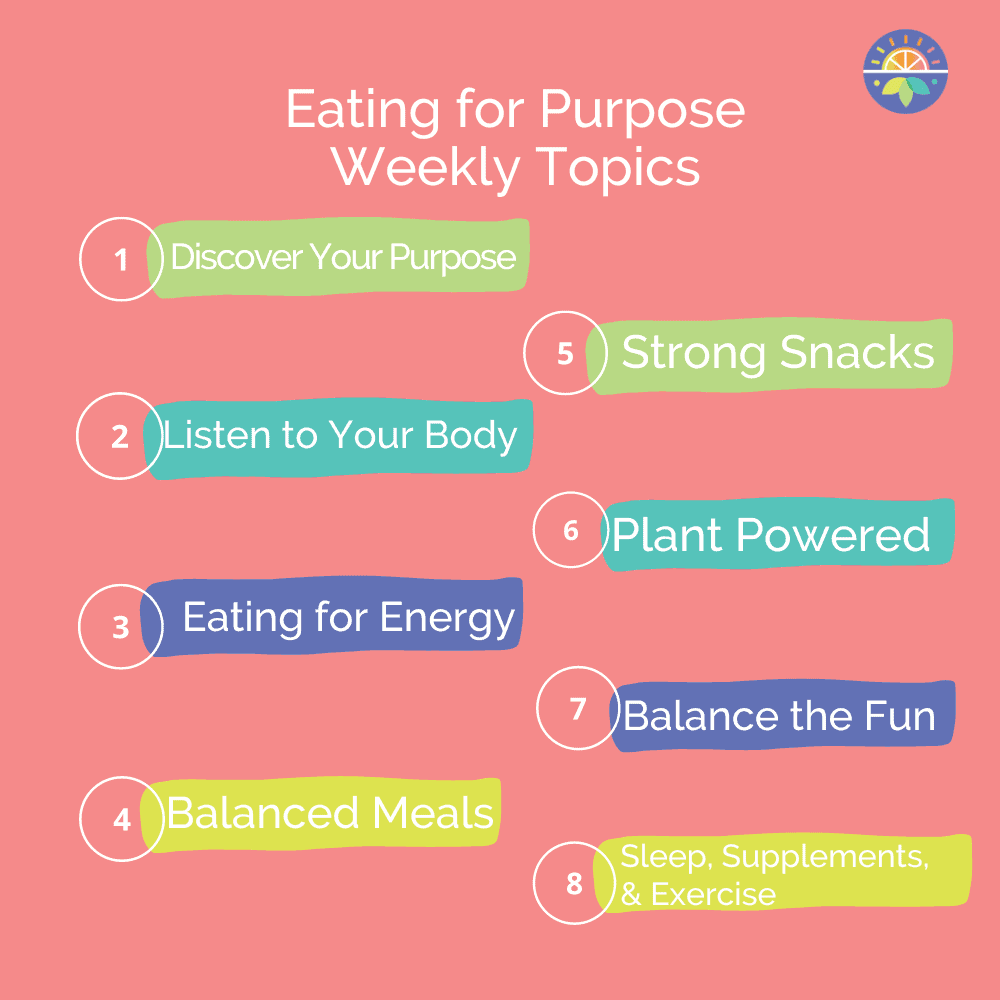 COURSE OUTLINE
Week 1 - Discovering your Purpose

1 Video lesson
Live kick off
1 worksheet

Week 2 - Listen to your Body

2 Video lessons
1 Worksheet
Live Office Hours

Week 3 - Eating for Energy

3 Video lessons
2 Worksheets
Live Office Hours

Week 4 - Building Balanced Meals

4 Video lessons
1 Guide
1 Worksheet
Office Hours

Week 5 - Strong Snacks

3 Video lessons
1 Snack Guide
Live Office Hours

Week 6 - Plant Powered

4 Video Lessons
1 Guide
1 Worksheet
Live Office Hours

Week 7 - Balance the Fun

4 Video lessons
1 Guide
1 Worksheet
Live Office Hours

Week 8 - Menopause Specific Basics

Top Tips on Exercise, Supplements and Sleep for Women 40+
Live Office Hours
WHAT WILL THE GROUP EXPERIENCE BE LIKE?
The purpose of the group experience is to cultivate a community to support everyone's changes. There is a lot of power in doing things together.
A group chat will be enabled for our group to communicate with throughout each week. The MHE team will post prompts to encourage dialogue and support. If a private Facebook group is better suited for the group, one will be created.
Each week a live group session will be offered to join in as a group. You will have the opportunity to connect with group members at this time.
COST
The cost for the 8 week program is $798.
We happily offer a payment plan option of a $99.75 billed weekly for 8 weeks.
If you would like the weekly payment option, be sure to check that option at checkout.
REFUND POLICY
You may request to be removed from the program with a full refund within 6 days of the program starting. After that point, no refunds will be issued.
HOW DO I SIGN UP?
Simply click the button below and you will be taken to Practice Better, Jenna's online practice software where the program is housed. You will be prompted to create your account after purchasing the program.
TESTIMONIALS
Make Healthy Easy for Women 40+ is exactly that. We learn to listen to our bodies - we become aware of our rhythms - we dive into our purpose and mission in life and build a new perspective on healthy. Jenna guides us into solid, research-based strategies to enrich our maturing bodies with nutrition and exercise, and supplements the course with added tools for our personal needs. Further, she teaches us to have grace with ourselves and offers us genuine kindness on our journey. I appreciated the hybrid course so that I could navigate the video clips at my own pace but have the accountability and personal interaction on a weekly basis.

- Eating for Purpose Participant, Spring 2023

I learned how to listen to my body and what it needs. These were key as it was something I never did before. The science behind the hormonal change in women my age was very informative.

- Eating for Purpose Participant, Winter 2023
Jenna was amazing to work with. Her knowledge and her way of sharing insights with me made me feel comfortable and encouraged and set me on a journey for success.

- Eating for Purpose Participant, Winter 2023
PARTICIPANT PERKS
As a participant in this 8 week group program, you will be offered special discounts and opportunities from trusted companies that partner with Make Healthy Easy. All participants will have access to Jenna's Fullscript supplement dispensary and receive a 15% discount on all products.