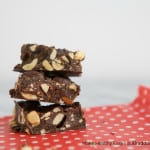 Print Recipe
Homemade Dark Chocolate Chunky Bar
Have a hankering for the nostalgic candy Chunky bar? Try this healthy homemade version made with super dark chocolate.
6

oz

dark chocolate

(60% or more cocoa chips)

1

oz

unsweet chocolate

roughly chopped

2

oz

unsalted, roasted peanuts

(about ½ cup)

2

oz

raw, whole almonds

chopped (about ½ cup)

½

cup

raisins

½

teaspoon

coarse sea salt
Prep a 8 x 8 pan by lining with parchment paper.

Put both types of chocolate in a microwaveable safe bowl. Heat in microwave for 1 min. Remove and stir with spatula. Continue microwaving in 30 second intervals until chocolate is almost all melted (about 1-3 more cycles). Stir vigorously with spatula until chocolate is completely melted and very smooth.

Add nuts and raisins to chocolate and stir to combine.

Pour chocolate mix into prepared dish and spread out. Chocolate may not fill the entire dish and that's ok. Sprinkle sea salt over top of chocolate.

Let chocolate rest for about 2 hours, until firm. Cut in to bars and serve. Refrigerate any bars that will be eaten later.