Creamy Tomato Kielbasa Pasta Recipe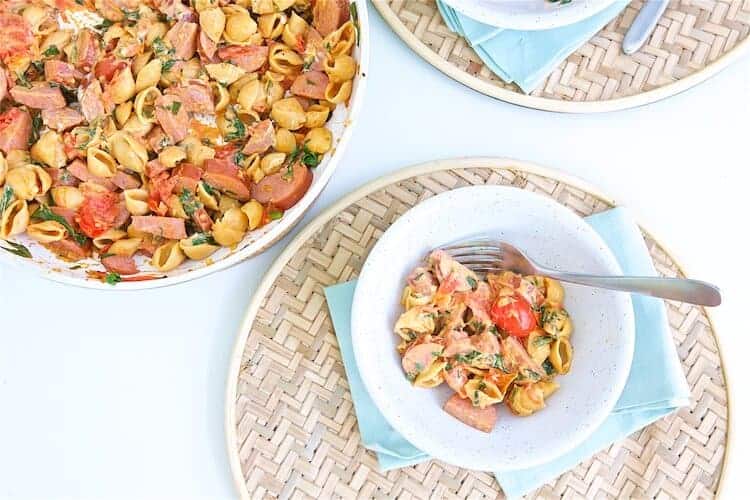 Author:
Jenna Braddock, RD
Recipe type:
Skillet Meal
½ box high protein* pasta shells
2 teaspoons Extra virgin olive oil
4 garlic cloves, finely chopped
1 pint of cherry tomatoes (or 6 plum tomatoes, diced)
1 beef kielbasa, cut in half moon shapes
¼ cup chiffonade fresh basil
3 cups of fresh spinach, chiffonade
Optional: 1 cup matchstick or shredded carrots
2 oz fresh goat cheese
Pinch of salt
½ teaspoon fresh, ground pepper
Preheat a large skillet over medium heat.
Cook pasta according to directions on box. Drain pasta, but reserve 1 cup of liquid to use in the sauce if needed. Set cooked pasta aside.
Add oil and garlic to preheated skillet and cook for 30 seconds.
Add all tomatoes, stirring to combine. Turn the heat up one notch. Continue cooking tomatoes until very soft and juices are released, about 10 minutes. If cherry tomatoes do not burst on their own, press on them gently with a cooking spoon.
Add in kielbasa.
Reduce heat to medium low. Fold in basil and spinach, stirring until wilted. (*If including matchstick or shredded carrots, add here as well.)
Add in goat cheese and stir until it is melted and incorporated throughout.
Fold in cooked pasta and coat the pasta in the sauce. Season with salt and pepper as desired.
If the sauce becomes too thick, add pasta water, 1 tablespoon at a time until desired thinness is achieved.
Serve warm.
Recipe by
Make Healthy Easy
at https://jennabraddock.com/creamy-tomato-kielbasa-pasta-recipe/