The only Lemon Bar Recipe you'll ever need or want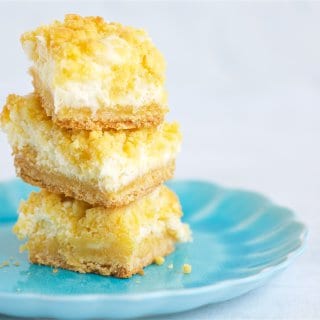 Author:
Jenna Braddock, RD
CRUST/TOPPING
2 boxes of yellow cake mix*
2 eggs, beaten
⅔ cup vegetable oil
Zest from 2 lemons
FILLING
2, 8 oz packages cream cheese, softened to room temperature
⅔ cup sugar
2 eggs
Juice from 2 fresh lemons
Preheat oven to 350 degrees.
Spray a 9x13 baking dish.
In a large mixing bowl, combine both boxes of cake mix, 2 eggs, oil and zest. Stir to combine and then use your hands to finish mixing completely.
Using your fingers, press about ⅔ of the crust mixture into the bottom of the pan creating a flat bottom of dough. Crust should be about ½" in thickness. Bake for 15 minutes.
Meanwhile, beat the cream cheese and sugar together with an electric mixer and whisk attachment until combined. Add 2 eggs and lemon juice. Beat for about 5 minutes. Taste as needed to determine if you want to add more lemon juice.
When crust is done baking, remove from oven. Pour filling on top of the crust (it's ok for crust to be hot), covering the crust completely.
Crumble the remaining ⅓ of the raw crust dough on top of the filing to cover as much as possible.
Bake for 25-30 more minutes, until center of the bars is set and doesn't jiggle, and crumb topping is golden brown. Remove from oven and let cool completely.
Once cool to the touch, refrigerate for at least 3-4 hours.
Cut into bars and serve as cold if possible.
* Use yellow cake mix and try to find one with pudding in the mix. Any yellow cake mix will work as I've tried this all kinds of brands.
You can cut the bars as big or small as you like.
Recipe by
Make Healthy Easy
at https://jennabraddock.com/lemon-bar-recipe/