Hidden Honey Snack Bar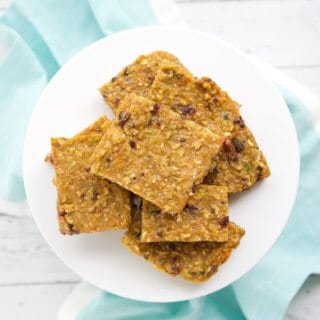 Author:
Jenna Braddock, RD
1 cup finely shredded zucchini, pressed through a fine sieve and drained
1 cup mashed sweet potato *(see bottom for instructions)
⅔ cup honey
2 eggs
2 tablespoons canola oil
1 teaspoon vanilla extract
1 cup old fashioned oats
1 cup whole wheat flour
⅓ cup almonds
¼ cup flax seed meal
⅓ cup dried cherries, roughly chopped
⅓ cup mini chocolate chips (optional)
Preheat oven to 350 degrees. Prepare a 9 x 13 pan by spraying with non stick cooking spray.
In a food processor or blender, combine oats, flour, almonds, and flax seed. Pulse until almonds and oats are broken down into a meal-like consistency. Set aside.
In a medium mixing bowl combine sweet potato, honey, eggs, canola oil, and vanilla extract and mix until well combine.
Add dry ingredients into sweet potato mixture and stir to combine.
Gently fold in zucchini until incorporated throughout, then fold in dried cherries and chocolate chips.
Evenly spread batter (will be thick) in baking pan and bake for about 25 minutes (or until edges begin to golden brown and fork inserted into the center comes out clean).
Let cool and cut into 28-30 squares.