Autumn Rice Bowl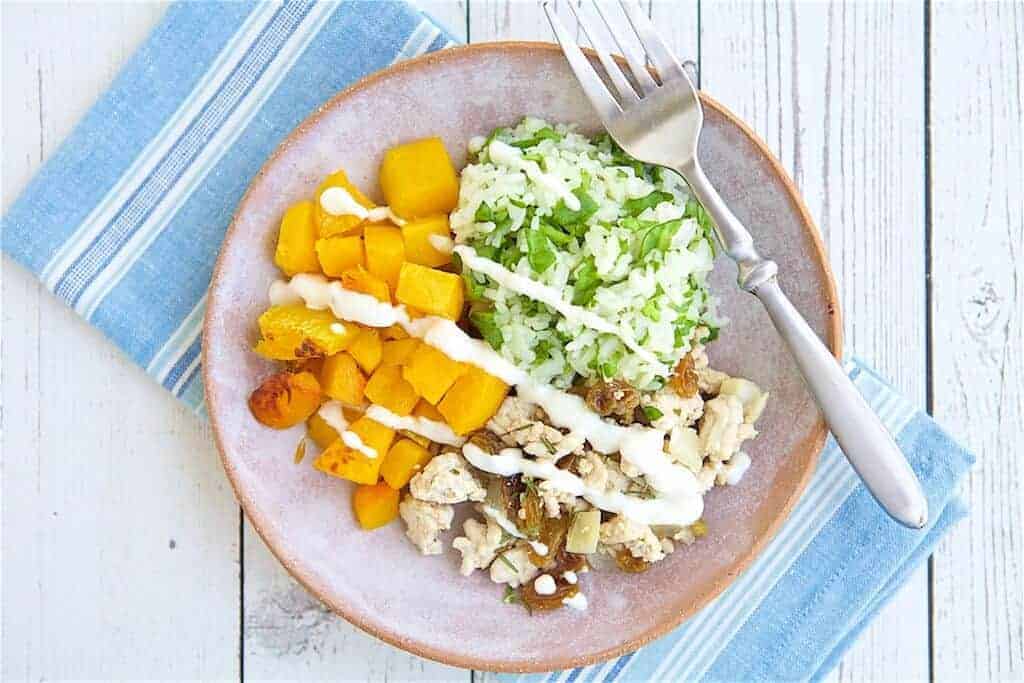 Author:
Jenna Braddock, RD
1 ½ cups dry rice of choice
4 cups fresh spinach, chopped
1 medium butternut squash
4 tablespoons extra virgin olive oil, divided
1 head of garlic
1 tablespoon vegetable oil
1 package Butterball Farm to Family Ground Turkey
½ yellow onion, diced
½ cup golden raisins (can substitute regular raisins or dried cranberries)
3 tablespoons chopped, fresh rosemary, divided
¼ cup turkey stock
Kosher Salt and Pepper
½ cup plain Greek Yogurt
1 tablespoon lemon juice (or the juice from half a lemon)
1 tablespoon of milk (optional)
Cook rice according to directions. When finished cooking, fold in chopped spinach. Set aside with lid on pot to keep warm. (Recommend doing this while preparing other items.)
Preheat oven to 425 degrees. Peel the butternut squash. Then, cut in half, scoop out seeds, and cube flesh into bite size pieces. Toss with 2 tablespoons of olive oil and spread on a rimmed baking sheet lined with aluminum foil.
Slice off the top of the head of garlic, leaving 80% of the bulb intact. Place garlic bulb on a sheet of aluminum foil large enough to wrap around it. Drizzle bulb with 1 tablespoon of olive oil. Wrap up the aluminum foil around the bulb and twist to seal.
Place both the pan of butternut squash and wrapped garlic bulb in the oven and bake for about 23-25 minutes, until squash is soft and lightly browned at edges. Remove from oven and set aside.
While butternut squash is baking, heat a skillet over medium heat. Add 1 tablespoon of vegetable oil, then add the ground turkey and chopped onion. Cook, stirring frequently to break up turkey, until turkey is mostly cooked through. Add the raisins, 2 tablespoons of chopped rosemary, and stock, then season with salt and pepper to taste. Reduce heat and simmer for about 3-4 more minutes, until liquid is reduced in half.
Make the garlic yogurt sauce by blending together, either by hand or in a food processor, the yogurt, the guts of the roasted garlic head (squeeze it out of the bulb), lemon juice, 1 tablespoon of olive oil, 1 tablespoon chopped rosemary, and salt and pepper to taste. Add milk if needed to thin sauce for drizzling.
Plate meal by scooping spinach-rice, turkey, and butternut squash into a bowl. Drizzle with garlic yogurt sauce. Enjoy!