Simple & Sweet Marinara Sauce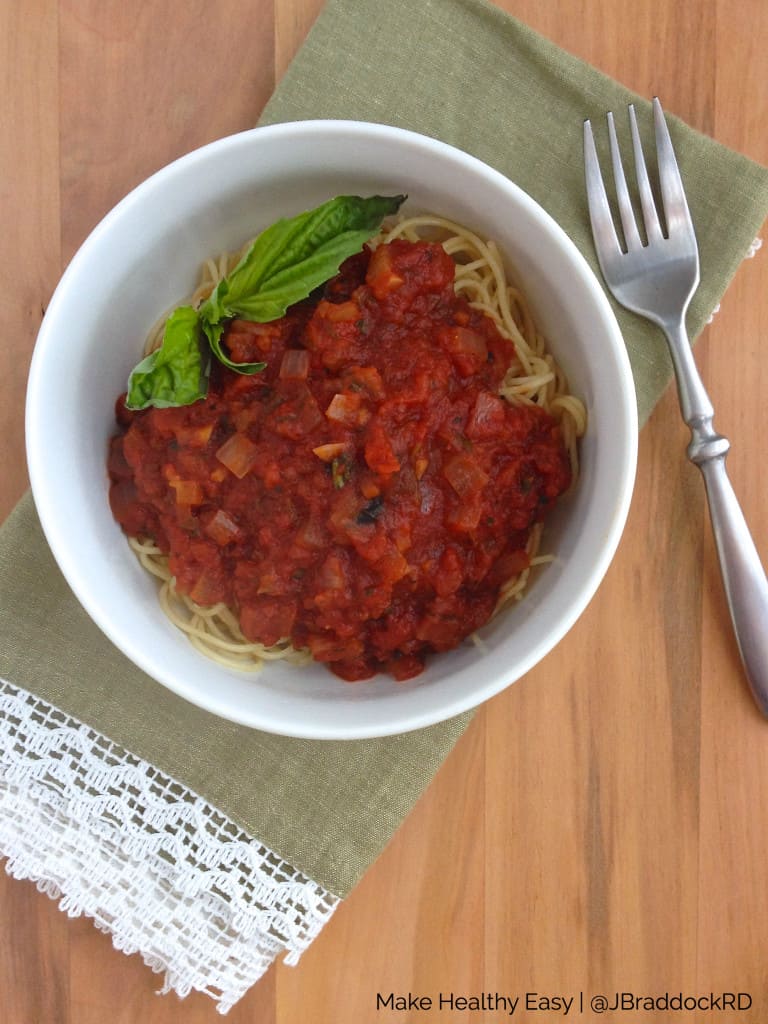 Author:
Jenna Braddock, RD
1 tablespoon olive oil
1 large yellow onion, finely diced
5 gloves of fresh garlic (not from a jar), minced
3 tablespoons of olive oil (or the same amount left from browning meat for sauce)
½ cup decent red wine (No cooking wine here! I buy the single bottles or the box wine for cooking so it never goes bad if you don't need a lot. Try using a cabernet sauvignon, merlot or shiraz for slight variations in flavor.)
28 oz can crushed tomatoes
6 oz can tomato paste
1-2 tablespoons brown sugar (use less for less sweetness if that's not your thing)
1 teaspoon Kosher salt
1 teaspoon fresh ground pepper
¼ cup (at least) fresh basil, finely chopped
¼ cup (at least) fresh oregano, finely chopped
3 tablespoons (at least) fresh parsley, finely chopped
1 tablespoon dried Italian herb blend
(1/2 pound ground meat of choice is optional)
Heat a large pot or Dutch oven over medium heat. Add 1 tablespoon of oil.
Add onions and sauté for about 3 minutes. Add garlic and cook for another 2 minutes.
Pour in red wine and deglaze the pan, carefully scraping up any bits on the bottom of the pan with a wooden spoon. Allow the wine to reduce in volume by half by cooking for about 2-4 minutes.
Add tomatoes, tomato paste, brown sugar, salt, pepper, and fresh herbs. Then add the dried herbs by rubbing them between your fingers before sprinkling in to the pot (this releases their flavors and oils). Stir to combine.
Reduce temperature to low or simmer. Add cooked, ground meat into sauce if using. Cook for a minimum of 1½ hours and as long as 8 hours.
Recipe by
Make Healthy Easy
at https://jennabraddock.com/simple-sweet-marinara-sauce/