Honey Drizzled Roasted Garlic Hummus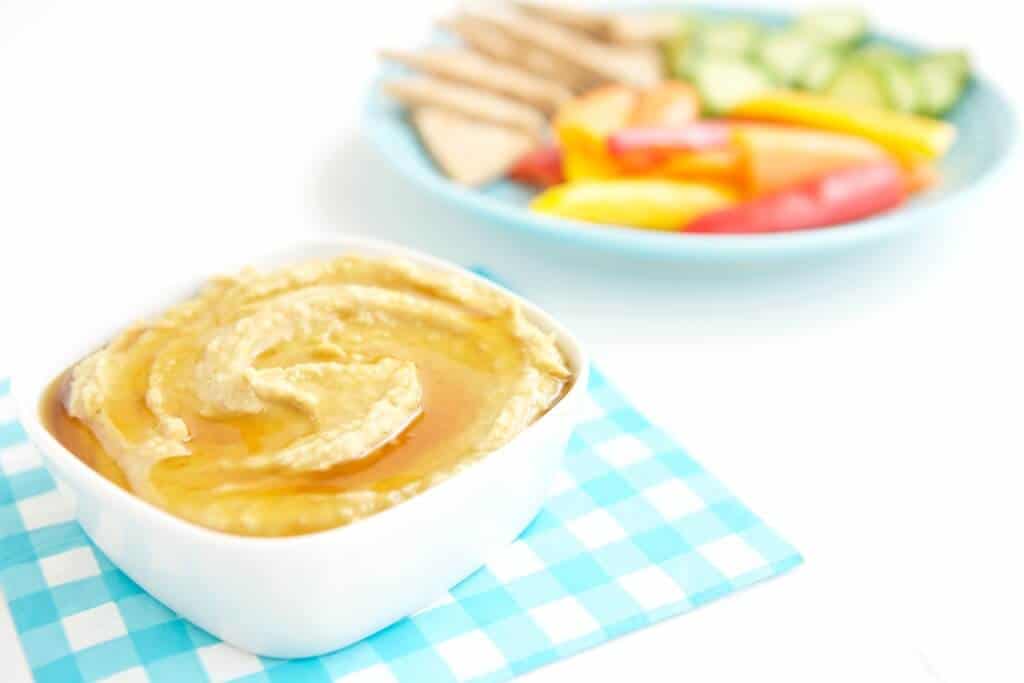 Author:
Jenna Braddock, RD
1½ cups cooked or canned (drained and rinsed) chickpeas
2 small, or 1 large, head of roasted garlic (see notes for directions)
¼ cup extra virgin olive oil
2 tablespoons tahini
¼ cup vegetable broth, more if needed
½ teaspoon Kosher salt
2 tablespoons honey, recommend a local honey if available
Assorted dippers: bell pepper strips, cucumbers, carrots, celery, pita chips, etc.
Add all ingredients to a high powered blender or food processor and blend until smooth. Add more broth as needed to thin texture and make blending easier.
Spoon hummus into serving bowl and create a swirl pattern on top with a knife or spoon. Make sure there are some deeper "valleys" in your swirl.
Drizzle honey over top of hummus and serve with dippers.
To make roasted garlic: Preheat oven to 400 degrees. Cut the tips off of the top of a bulb of garlic. Place garlic bulb on a sheet of aluminum foil large enough to wrap and cover the whole bulb. Drizzle the exposed garlic with olive oil to coat. Wrap the garlic up in the foil like a packet. Bake for about 40 minutes, until garlic is soft and golden. Allow to cool. Squeeze the base of the cooked garlic, pushing the cooked, soft garlic out. Add the soft, cooked garlic to this recipe and discard the skin.
Recipe by
Make Healthy Easy
at https://jennabraddock.com/honey-drizzled-roasted-garlic-hummus/