Lemon Ricotta Gluten Free Muffins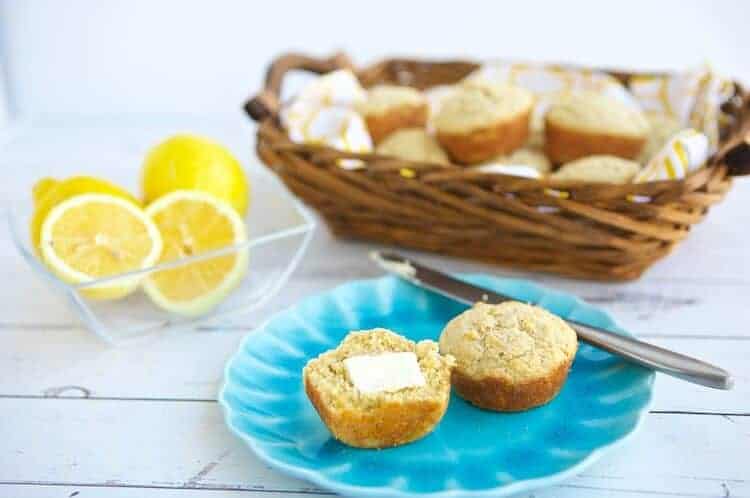 Author:
Jenna Braddock, RD
2 ½ cups of Quaker Gluten Free Quick 1-Minute Oats (from the canister)
5 tablespoons unsalted butter, softened to room temperature
½ cup sugar
1 egg
¾ cup part skim ricotta
Zest of 2 large lemons, about 2 heaping tablespoons
½ teaspoon almond extract (optional)
⅓ cup low fat milk
½ cup fresh squeezed lemon juice (from about 1½ large lemons)
½ teaspoon gluten free baking powder
1 ½ teaspoons baking soda
½ teaspoon Kosher salt
Add the oats to either a food processor or powerful blender. Pulse oats until a fine flour is formed. Set aside.
Preheat oven to 350 degrees.
In a large mixing bowl, cream the butter with an electric mixer on medium speed for 2 minutes. Pour in the sugar and continue mixing until fully incorporated and stopping once to scrape down the sides of the bowl with a spatula, about 2 more minutes.
Add the egg to the butter and sugar and mix well.
Next, add the ricotta, almond extract, and lemon zest continuing to mix until well incorporated.
Combine the milk and lemon juice and pour into batter. Mix on medium low speed until incorporated. Stop to scraped down the sides and bottom of the bowl if needed.
Pour oat flour, baking powder, baking soda and salt into mixing bowl. Mix on low speed, just until incorporated. Batter will be sticky and fluffy. Let stand for 5 minutes.
Meanwhile, prepare a muffin tin by spraying with nonstick cooking spray.
Scoop 2 oz, or about ½ cup of batter into each muffin tin. Bake muffins for about 20-22 minutes, when edges are golden brown and toothpick inserted into the middle comes out clean.
When baking is complete, let stand for 5 minutes. Then remove muffins and cool completely on a wire rack.
These muffins will not turn golden brown all over. This is mostly due to having less butter and sugar than a typical muffin.
All of the ingredients in this recipe either have an officially Gluten-Free version or are generally considered gluten free. Always double check ingredient lists to make sure there are not any sneaky gluten containing ingredients.
Recipe by
Make Healthy Easy
at https://jennabraddock.com/lemon-ricotta-gluten-free-muffins/