Roasted Garlic & Tomato Mini Crustless Quiche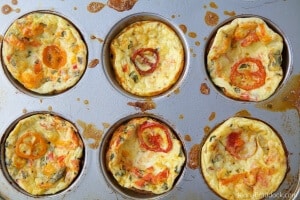 Author:
Jenna Braddock, RD
1 cup cherry or grape tomatoes, sliced into circles
6 eggs
1 cup cashew milk
1 tablespoon of mashed roasted garlic, from one full head of garlic
1 tablespoon fresh, minced basil
1 cup shredded Cabot Alpine Cheddar
½ teaspoon fresh ground pepper
½ teaspoon sea salt
Olive oil and nonstick cooking spray
Prepare roasted tomatoes: Preheat oven to 400 degrees. Line a baking sheet with parchment paper and spray with nonstick cooking spray. Lay tomato circles on baking sheet in a single layer. Spritz with olive oil. Bake for 10 minutes. Remove from oven and let cool. Chop tomatoes into small pieces, reserving about a dozen circles for garnishing the top of the quiches.
Lower oven temperature to 350 degrees. GENEROUSLY spray a muffin tin with nonstick spray or line with foil muffin cups.
In a large mixing bowl, whisk the 6 eggs for about 2 minutes, until frothy. Slowly pour in milk while continuing to whisk. Then whisk in 1 tablespoon roasted garlic.
Fold into eggs, one at a time, tomatoes, cheese, basil and salt and pepper.
Pour egg mixture into prepared muffin tins to fill each hole about 90% full. Gently place one tomato round on top of each quiche.
Bake in oven for 23-25 minutes, until centers are fully set.
Remove from oven and allow to cool in pan for 10 minutes. Use a knife around the edges of each quiche to loosen it. Then use a thin, flexible spatula to help remove each one from the pan.
Serve immediately, or allow to cool completely and store in refrigerator for up to 3 days.
1 or 2% milk can be substituted for cashew milk.

It is very important to generously grease each muffin tin for easier removal.

Take you time loosening each one from the muffin tin after baking. They will come out in full if you loosen carefully.
Recipe by
Make Healthy Easy
at https://jennabraddock.com/roasted-garlic-tomato-mini-crustless-quiche/