Kid Friendly Crunchy Veggie Bites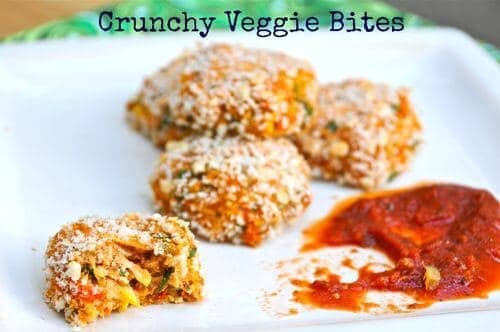 Author:
Jenna Braddock, RD
12 oz extra firm silken tofu, drained
½ of a medium yellow onion, grated
1 carrot, grated
1 small yellow squash, grated
2 garlic cloves, minced
2 large kale leaves, finely chopped (think confetti) - can substitute 1 cup loosely packed spinach
1½ cups jarred pizza sauce
2 tablespoons tomato paste
1½ cup quick oats
¾ cup part-skim shredded mozzarella cheese
1 egg beaten
2 teaspoons salt
2 teaspoons pepper
2 cups panko bread crumbs
Preheat oven to 400 degrees. Line baking sheet with parchment paper.
In a large bowl, mash the tofu using a potato masher until crumbly.
Gently squeeze out extra liquid from onion, carrots, and squash. Add onion, carrot, squash, kale, garlic, pizza sauce, tomato paste, oats, cheese, egg and salt and pepper to tofu and stir to combine thoroughly.
Pour bread crumbs in a shallow dish. Scoop out about 2 tbsp of tofu mix (I used a large cookie scoop) and roll into a ball. Roll ball in panko bread crumbs to coat. Place on baking sheet. Repeat with rest of tofu mixture.
Bake for 15 minutes. Remove from oven and let rest for a few minutes. Serve immediately or cool completely and freeze.
To grate the vegetables, I recommend using a box grater. You can also get fancy (i.e. make it easy on yourself) and use the grating blade in your food processor.
Recipe by
Make Healthy Easy
at https://jennabraddock.com/kid-friendly-crunchy-veggie-bites/