Blueberries and banana unexpectedly come together in this lightly sweet coffee cake made with whole grains.
This recipe was the grand prize winner for the Banana-Blueberry category in the Blueberries Meet their Match recipe contest sponsored by the U.S Highbush Blueberry Council!
Today we hosted a potluck brunch for Ben's baby dedication. We held it at our house with many of our family and close friends. It's such a special time for our family (we did the same thing for Jackson).
For my contribution to the celebration I wanted to make something special. I've also had another idea for a recipe entry for the Blueberries Meet Their Match contest. The challenge is to pair blueberries with a flavor that is outside of their usual "box". I decided to combine blueberries with bananas in a delicious, not-too-sweet coffee cake for breakfast. Bananas and blueberries are an unexpected flavor combination but it works beautifully!
I've also wanted to work with mascarpone cheese, a less tangy Italian cream cheese commonly used in tiramisu, that is found in most grocery stores. This seemed like a good time to try it because I wanted to add a cheese danish element to my cake.
Recipe Note: If you can't find mascarpone cheese, just use the same amount of reduced fat cream cheese.
The end result is a coffee cake that tastes like what would happen if banana bread, cheese danish, and blueberry pancakes all got together (but healthed-up a little). It's the perfect combination of flavors, moistness, and just the right amount of sweetness.
This cake bakes for about an hour which gives it slightly crunchy edges and a super moist center. Oh, and of course, being filled with blueberries and bananas adds great nutritional value and fiber. It's a winner in every way.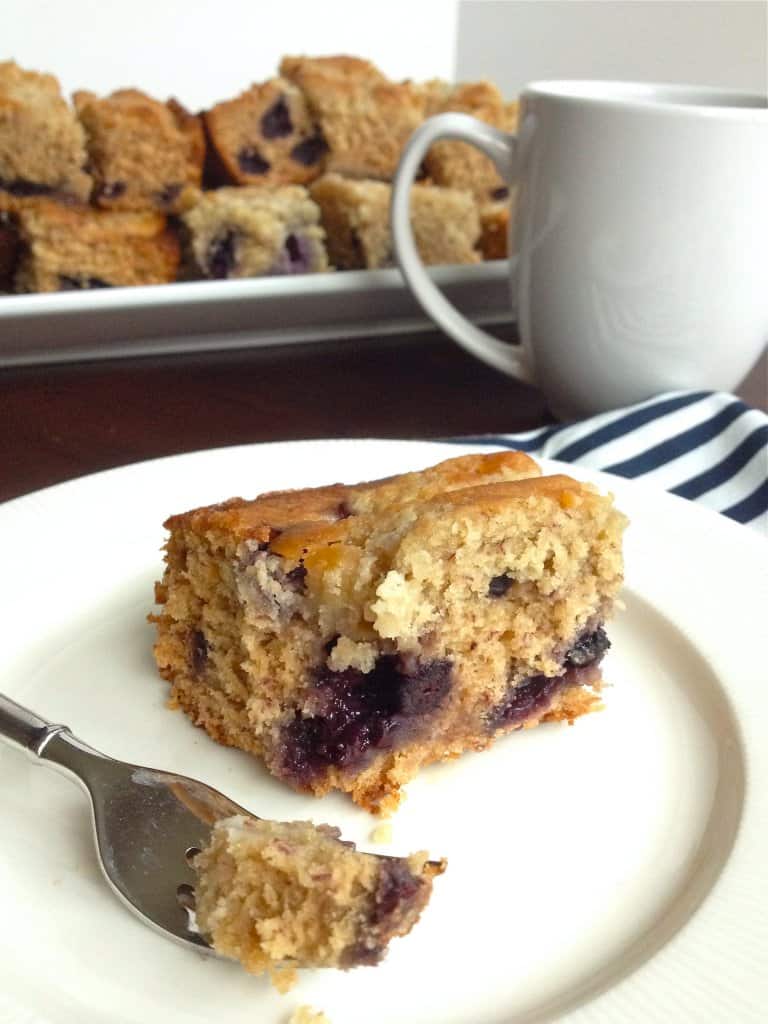 I can't tell you how much I enjoy a piece of this coffee cake with a warm cup of coffee. It's even better if you have a friend or two to share it with over some great conversation.
Enjoy!

Blueberry Banana Mascarpone Coffee Cake
Author:
Jenna Braddock, RD
Ingredients
½ cup unsalted butter (1 stick), softened
1 cup sugar
¼ cup honey
1 cup mashed bananas (from 2 bananas)
1 teaspoon plus ½ teaspoons vanilla, divided
2 eggs
2 cups all purpose flour
1 cup whole wheat pastry flour
1 teaspoon baking powder
1 teaspoon baking soda
1 teaspoons salt
1 cup low fat buttermilk
2 heaping cups fresh or frozen blueberries
8 oz mascarpone cheese, softened
½ cup powdered sugar
Instructions
Preheat oven to 350 degrees. Spray a 9 x 13 pan with nonstick baking spray.
In a mixing bowl, cream butter and sugar together for about 4 minutes, scraping the sides of the bowl as needed. Beat in the honey and mashed bananas and mix until combined. Next, add eggs and 1 teaspoon of vanilla and mix thoroughly.
In a separate bowl, mix together flours, baking powder, baking soda, and salt.
Alternate adding dry ingredients and buttermilk to the wet ingredients in 3 increments.
Fold in blueberries to batter. Pour batter into pan and set aside.
In a mixing bowl, whip mascarpone, powdered sugar and vanilla together until well combined. Drop mascarpone mixture in spoonfuls over batter. Drag a knife through the batter to spread out the mascarpone.
Bake for 30 minutes. Remove and cover with tin foil. Reduce oven temperature to 325 degrees and bake for 30 more minutes or until a knife inserted into the center of the cake comes out clean. Let cool and cut in to squares to serve.